GL Rising Tonnage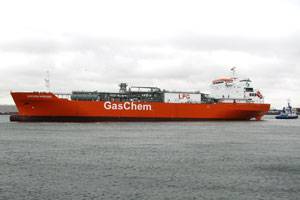 With the classification of the gas tanker MT Gaschem Nordsee, Germanischer Lloyd (GL) has passed the 80 million gross tons threshold. More than 6,870 ships are currently surveyed on a regular basis by Germanischer Lloyd. As a result, the fleet in service for Germanischer Lloyd has grown by 10 million gross tons since
September 2007.

The MT Gaschem Nordsee, flying the German flag, was delivered in late March by Meyer shipyard in Papenburg. The LPG (liquefied petroleum gas)/ethylene tanker is the first of four gas tankers of the same hull type to be built in Germany by 2010 by the Meyer shipyard and its sister firm Neptun Shipyard. The modern ship with a gross tonnage of 13,878 can hold up to 17,000 m3 of liquefied gas in its cargo tanks. Besides LPG, the tanker is also designed for the transport of liquefied ethylene gas (LEG), the key chemical for the petrochemical industry. The tanker measures 508 ft in length and 74.5 ft in width, with a maximum depth of 34.5 ft and a speed of 17 knots. The MT Gaschem Nordsee will initially be deployed by Japan's Marubeni Group to transport liquefied gas to Asia.

Freighting and ship management for the MT Gaschem Nordsee will be handled jointly by Harpain Reederei GmbH & Co KG, a joint venture of Harpain Shipping and Hansa Hamburg Shipping International, and NSB Niederelbe Schifffahrtsgesellschaft mbH & Co. KG. NSB was founded in 1982 and currently manages 115 ship units, including six gas tankers deployed around the world. Harpain Shipping was founded in 1988 as a shipping company and ship's agent and specializes in ferries and cruise ships as well as the LPG and chemical gas sector. The companies have several ships classed with GL.