Cover the Guns: Transhield's Armordillo Navy Approved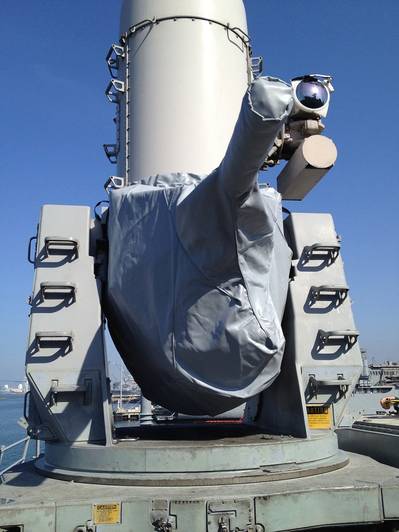 Transhield, Inc., a manufacturer of high-tech protective covers for commercial and industrial markets, announce that their patented Armordillo protective covers have successfully completed evaluation with the U.S. Navy.
The evaluation of Transhield Armordillo advanced protective cover technology occurred over a nine-month period onboard several surface combatants and at the Naval Research Lab. As a result of the evaluation, Naval Sea Systems Command released a message to all Naval Commands stating it has approved Armordillo protective covers for use by the surface ship fleet to help reduce corrosion of weapons systems and other topside equipment.
"Based on our own extensive testing we have always been confident in the ability of our high-tech protective covers to provide superior corrosion protection in extreme environments. To have that confirmed through this U.S. Navy evaluation is deeply gratifying. We are very excited that Transhield can deliver to the U.S. Navy a next generation cover technology that is much lighter, easier to install and significantly less expensive than current covers," said James Glick, Transhield's president.

Continued Glick, "The saltwater environment is among the harshest and provides a significant challenge for maintaining equipment. We developed our Armordillo technology in response to the U.S. Navy's need to effectively protect equipment in these types of onboard conditions. Our employees take a great deal of pride in the fact that we are supporting the warfighter at sea with a product that helps ensure mission readiness."

Transhield's patented technology is integrated throughout its protective covers. It reduces corrosion by 85 to 95 percent by wicking away moisture from metal while simultaneously disrupting the electrochemical reaction that causes corrosion.

Transhield say that their protective covers are tested using ASTM standards for breathability, ultraviolet blockage, tensile strength, and yield strength. They are lightweight, 100-percent waterproof and provide years of use.

Transhield has supplied more than 20,000 vehicle and equipment covers to the U.S. Military since 2008. Transhield protective covers are available on the GSA Federal Supply Schedule under contact number GS-02F-0103R.

www.transhield-navy.com