ZIM Transitions Fleet to StowMan(s) Software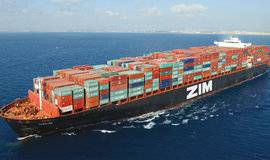 ZIM Integrated Shipping Services Ltd, Israel has decided to enhance its stowage planning for its containership fleet (currently 93 ships) in the future by using the software StowMan[S] from INTERSCHALT maritime systems AG, the software and services provider for maritime navigation and communications systems for ships.
In addition to the stowage planning software, the contract includes equipping the ZIM fleet on-board with the Seacos MACS3 loading computer from INTERSCHALT.

StowMan[S] optimization software – developed in cooperation with the IT University of Copenhagen and launched in September 2014 – for the first time enables stowage planners to generate multiple optimized stowage plans for a ship within its trade in a very short time. In an iterative process, the software takes into account all criteria relevant for the safe and effective stowage of containers – such as the container size, crane capacity, segregation of dangerous goods, reefer container plug-ins, and also the optimum trim.

The planning time that is saved can be applied by stowage planners and cargo flow managers to further optimize capacity utilization, bunker consumption and terminal operations per rotation, with the aim of reducing port laytimes and exploiting potential savings in fuel consumption.

David Arbel, Chief Operation Officer at ZIM, underscored the choice as follows: "While looking for the best stowage planning software currently available, StowMan[S] impressed us with the speed and efficiency with which we were able to plan different stowage scenarios according to various criteria, in order for us to decide on the optimum plan with maximum capacity utilization," says Arbel, adding in conclusion: "There is no other software like it on the market today. Operated together with the MACS3 loading computer, we see a realistic possibility to optimize the capacity utilization of our ships – both on board and on land, taking into account safety criteria as well as economic aspects."

In addition to ZIM, two other liner shipping companies among the top 20 also use StowMan[S], so that the fleet that currently uses this stowage planning software has increased to about 600 ships around the world.