First Angola LNG Transits South Atlantic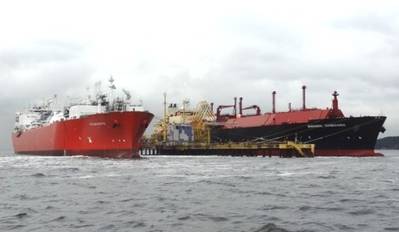 The 160,000 m3 cargo - which left Soyo aboard the SS SONANGOL SAMBIZANGA last month - has been safely unloaded at Petrobras' regasification terminal in Guanabara Bay, Rio de Janeiro.

CEO, Angola LNG Marketing Ltd. said: "Our main priority is safe and reliable production and delivery of Angolan LNG to the world. We have demonstrated this with our first cargo."

At full production it is expected that over 70 cargoes per year will leave the Angola LNG plant, supplying 5.2 million tons per year of LNG, plus propane, butane and condensate.

A large number of master LNG sale and purchase agreements have been executed with energy companies across the world, providing Angola LNG with a robust and diverse portfolio of customers. Further agreements are currently being negotiated.

Angola LNG is a partnership between Sonangol, Chevron, BP, ENI and Total that will gather and process gas to produce and deliver LNG and NGLs. Angola LNG will gather, process, sell and deliver 5.2 million tons per year of LNG - plus natural gas, propane, butane and condensate - from its plant in Soyo, Angola; one of the world's most modern LNG processing facilities. Angola is the second-largest oil producer in sub-Saharan Africa.