Marine Transmission Built Arctic Circle Tough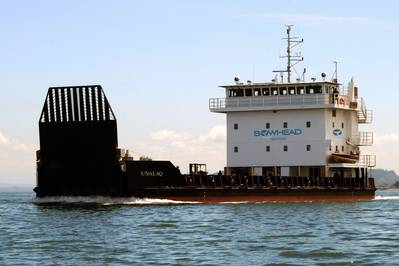 Bowhead Transport's newest addition to its fleet, M/V Unalaq, will service the Alaskan coast, north into the Beaufort Sea. Utilizing Twin Disc's MGX-5135 SC marine transmissions and EC300 Power Commander controls, the shallow-draft landing craft will bring much-needed supplies to this remote area. This includes small, isolated villages far above the Arctic Circle.


Unalaq was built to function in Bowhead Transport's lighterage operations. The boat ferries cargo to and from an oceangoing barge offshore. Landing on a beach or maneuvering in a shallow bay, the vessel requires precise control, especially at slow speeds. This is where Twin Disc's reduction gear with Express control excels.

The MGX-5135 SC features the company's QuickShift technology that instantly delivers torque to the propellers when altering from neutral to anywhere from full ahead to full reverse. Shifting is fast and smooth, and its slow speed control is unmatched, Twin Disc said. With Twin Disc's controls, Unalaq's prop shaft speed can be adjusted on the fly from well below engine idle to wide-open-throttle, and its three engines' rpms can be synchronized.

The transmission on Unalaq will get a workout. Unlike a static harbor, ever-shifting shorelines call for an exacting helm. "Lots of control is great to have when we're headed onto a beach," said Jason MacDonald, Bowhead Transport marine operations manager. "When we're dealing with wind, chop, and strong sideways currents—immediate response is critical."

The continuous duty MGX-5135 SC marine transmission, with a 2.57:1 reduction ratio, boasts a maximum power rating of 445 kW (597 hp) at 1,800 rpm. The unit comes standard with an SAE J617 housing #1 and flexible coupling for the 14" flywheel. Also included is the electric GP-valve with manual shift override. Many options are available in the controls to customize operation for specific applications.

The 150' L x 50' W Unalaq has a freight capacity of 450 tons. With 4,950 sq. ft. of deck cargo space and 1,000 lbf/sq. in. of strength, the boat can accommodate a serious load. With its enormous 27' L x 24' W bow ramp, crew can easily load and discharge cargo. The vessel is powered by three Caterpillar C-18 ACERT engines and, when fully loaded, has a cruising speed of 9 kts. It was designed by Columbia-Sentinel Engineers of Seattle, Washington and built in 2014 by Nichols Brothers Boat Builders of Langley, Washington.