Attach a Transponder to Relocate Underwater Assets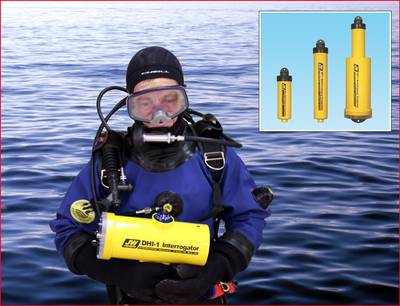 JW Fishers, manufacturers of underwater search equipment, advise that transponders make locating underwater objects easy.
Attempting to relocate underwater objects in a low visibility environment can be a difficult and time consuming task. Acoustic transponders solve this problem. Not long ago transponders were expensive pieces of equipment used primarily by the military, oil and gas industries, and oceanographic institutions. Today these underwater locating beacons are being employed by a wide range of users including commercial diving companies, law enforcement agencies, universities, environmentalists, and companies in the energy industry.

JW Fishers, has introduced a line of low cost transponders and an interrogator used to locate them. Fishers MFT-1 multifrequency transponder is capable of transmitting 9 different frequencies between 24 kHz and 33 kHz. Having transponders with different frequencies allows many to be deployed in the same area with each transmitting a unique signal. The standard MFT-1 will operate from 4 to 8 months depending on the type of batteries installed. An optional extended housing is available that accepts more batteries, tripling the operating time. A Very Long Duration housing is also an option which holds enough batteries to operate the transponder for several years.
Fishers DHI-1 interrogator is compatible with other manufacturer's transponders as well as its own, and will detect transponders with frequencies in the range between 24 and 33 kHz. To get the transponder to start sending a signal, the interrogator first hits it with a 26 kHz coded pulse. The two devices will communicate with each other at a distance of up to 3,000 feet. The transponder then starts broadcasting its signal which is picked up by the interrogator, guiding the operator directly to it. The DHI-1 can either be carried by a diver or deployed from a boat. An earphone alerts the diver or topside operator to the detection of a signal, and a digital readout shows the distance, with a built-in compass providing the heading. The DHI-1 has a rechargeable NiCad battery pack that powers the interrogator for 12 continuous hours.
For more information click here.