New Tank Barge Arrives & AEP Begins River Transport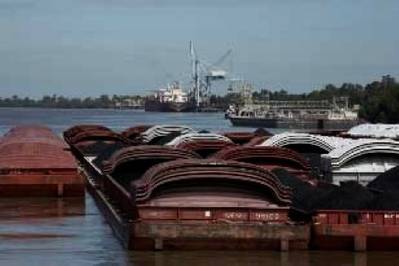 AEP River Operations say they have began operations of its new Liquids Division today with receipt of the first of 20 tank barges. The addition of tank barges to the company's fleet will allow them to transport liquid commodities, including petrochemicals and agricultural chemicals.
The company informs that its liquid barge fleet is being constructed by Jeffboat, based in Jeffersonville, Ind. Each barge will have a capacity of 11,000 barrels and measure 200 feet long and 35 feet wide, with external frames, 6-pound press tank tops, vapor recovery and Tier III John Deere engines. The 20 liquid barges will be delivered in 2014.

"Entering the liquid cargo market means we can offer our customers a more complete range of services," said Keith Darling, president, AEP River Operations. "We are bringing the same commitment to safety and environmental performance to the transport of liquid products that we've offered for dry commodities for the last 41 years. Our new liquid barge fleet will exceed the safety standards commonly found on 10,000 barrel barges."

About the company
AEP River Operations is one of the largest inland river barge companies in the United States, transporting more than 65 million tons annually. This includes the movement of grain, project cargo, coal, steel, ores, liquids, and other bulk products. The current fleet includes more than 79 towboats ranging up to 11,000 horsepower and more than 2,900 hopper barges. The company headquarters are located in Chesterfield, Mo. In addition, AEP River Operations has fleeting services in Convent and Algiers, La., and a shipyard in Belle Chasse, La.