FAST 2011: Focuses on Future of Fast Sea Transportation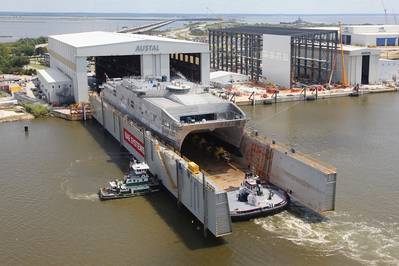 Naval Architects and marine engineers from around the world gathered in Honolulu in September for the 11th International Conference on Fast Sea Transportation (FAST 2011). The four-day biannual symposium promoted world-wide cooperation among scientists and engineers involved with all aspects of the high-speed maritime industry. FAST 2011 was the Fast Foundation's 20th anniversary.
Kjell Holden of the Norwegian Univ. of Science and Technology and FAST International Standing Committee chair said the forum was aimed at stimulating development of new concepts that explore the need for higher speed for sea transportation, coastal protection and naval operations.
Holden remarked that the FAST conferences have been responsible for publishing over 1,100 papers since the first FAST forum in Norway in 1991. More than 100 papers were presented at this year's conference.
The event was sponsored by American Society of Naval Engineers, Navatek, Ltd., NUMECA USA, Inc., MARINTEK, Umoe Mandal AS, Austal Ships, the Transonic Hull Company, and the FAST Foundation.
Speed paradigm change
Capt. Timothy Close, Chief of Staff for the Fourteenth Coast Guard District, was a keynote speaker. Close discussed the challenges involved in the District's responsibilities that span a large portion of the Pacific Ocean. He also addressed the challenges of high-speed craft operations.
"The Coast Guard has boats that are capable of high-speed operation to best execute various Coast Guard missions such as interdicting drug traffickers and human traffickers with high-speed boats of their own, to enable us to respond faster to Search and Rescue cases, and to respond faster to port security threats," Close said. "An important point is that while Coast Guard boats are capable of high speed, they are not always operated at high speed."
Close said the Coast Guard has several classes of boats that achieve speeds of 40 knots or greater. The speed enables the Coast Guard to better conduct drug interdiction and search and rescue missions. But there are challenges. Electronic equipment such as radars and fathometers can become problematic at higher speeds, which can affect the safe operation of the ship. "There's no room for complacency."
The Coast Guard has learned from experience that high-speed craft require a different approach to design and operation. "With traditional boats, the coxswain used to stand in the open to operate the boat. Now, we require the coxswain and crew to be seated with safety harnesses and spring-loaded cushion seats. Because of noise and wind, the boats now have enclosed sound-insulated and air conditioned cabins. These boats have human factors—to include visibility, crew endurance, safety and comfort, and ability to carry out tasks—designed into them.
Training the crews of high-speed boats has evolved," Close said. "We need to make our crews proficient, not just qualified. Once they qualify, they need to go out and practice in all conditions, day and night, low visibility, and heavy seas.
Close said that fathometers do not work well as a navigational tool at higher speeds. Also, high-speed boats can "outrun their radar," he said. "We have come to rely on electronic navigation, but in a dynamic high-speed environment you need to look out the window as well."
High speed has brought about a culture shift in the boat operations chain of command. A new dedicated navigator position has been added to the coxswain and engineer. The entire crew is involved in a risk assessment prior to getting underway. "All the crew members have to agree on the different aspects of risk involved. It's no longer just the coxswain deciding to get underway." he said.
Commercial high-speed vessels share all the same human factors issues that the Coast Guard is concerned about with its own boats. "No matter how fast it goes, it's still a vessel, and it has to comply with all the rules of the road," Close said. "Concerns related to training, crew endurance, visibility limitations and competing waterway users for example apply to all high-speed vessels."
Dr. Tony Armstrong from Austal, based in Henderson, Western Australia, also delivered a keynote address. He discussed the trimaran hull design now being employed for fast ferries and for naval applications, as well as the benefits of all-aluminum ship construction. Armstrong shared Austal's experience with the all-aluminum Westpac Express, Hawaii Super Ferry, Benchijigua Express, Littoral Combat Ship, and the Joint High Speed Vessel (JHSV).
In addition to aluminum, the delegates heard from a number of experts who discussed the relative merits of different materials for high-speed vessels, to include steel, composites, fabric, and titanium.
Transformational Craft
Dr. Al Skolnick and Bob Wilson discussed the Office of Naval Research Transformable Craft Innovative Naval Prototype, better known as T-Craft, which can self-deploy without a payload up to 2,500 nautical miles unrefueled at a speed of 20+ knots through sea state 5; meet up with a sea base; embark up to 750 tons of cargo, including vehicles as large as M1A1 tanks, in high sea states; and then deliver that payload to the shore at high speed (more than 40 knots). Three different T-Craft concepts have been developed. The three competing design efforts were led by two American companies (Alion Science and Technology, and Textron Marine Systems) and one Norwegian company (Umoe Mandal).
"While long legs and high speed were viewed as doable, transferring cargo at sea and delivering it to the beach feet dry was a bigger challenge," Wilson said.
"The Navy asked industry, 'Can you do this.' The response was, 'Yes, this is achievable.' There are technologies and systems engineering developments that are needed, but this is a doable thing," said Wilson. "It could be built today."
T-Craft merges three unique ship concepts—the catamaran, surface effect ship and air cushion vehicle—to deliver long range, high speed, large payloads and the ability to go up onto the beach "feet dry" and offload cargo. Furthermore, the T-Craft designs can transfer cargo to and from larger ships located at a "sea base" far from shore.
While a T-Craft demonstrator is not being built, the different technologies being studied will benefit from the program. A number of the presentations reported on findings from research that was associated with ONR's T-Craft program.
Wave-Piercing bows to Stern Flaps
Other topics presented at the conference ranged from computational fluid dynamics and structural design to hydrodynamic testing and optimization to inflatable boats.
New concept ships were explored, such as the Wave Adaptive Vessel - Modular (WAM-V), –high-speed Small Waterplane Area Twin Hull (SWATH) vessels, High-Speed Trimaran Trailerships (HSTT) for coastwise shipping, wave-piecing bows, Transonic's slender triangular waterplane, Surface Effect Ships (SES) and Air Cushion Vehicles (ACV), as well as ONR's T-Craft. Presentations looked at both old and new materials; variations of propulsion systems, to include diesels and gas turbines, air screws, waterjets, Z-drives and thrusters, high-speed high-frequency generators and motors, and integrated electric drive systems; as well as computerized design and simulation tools.
Subjects also included new methods of loading and discharging cargo, manning, and environmental considerations.
Dominic Cusanelli with the Naval Surface Warfare Center at Carderock, Md., presented on the design and installation of stern flaps on U.S. Navy amphibious ships which have enabled these ships to achieve lower fuel consumption, achieve better range, and increase maximum speed. The $1 million stern flaps pay for themselves in the first year in fuel savings, Cusanelli said.
Bob Wilson said FAST 2011 was an opportunity for academics, designers and builders to meet and share ideas. Wilson said it was valuable to find out about the research being conducted around the world, and to offer feedback and suggestions without being critical. "Everyone shares the same broad vision, but we all offer a unique perspective. There are a lot of free thinkers here."
Wilson noted the wealth of experience in attendance, but was also encouraged by the large number of young people at FAST 2011, especially those presenting papers on their academic research.
Dr. Steven Zalek, a naval architect and research scientist at the University of Michigan, said FAST 2011 was an excellent opportunity to personally meet many people whom he has known by professional reputation. "Now I can reach out to them because I've come to know them. This will improve my ability to do my research, and we can collaborate better and help each other in the future."
"I have been delighted with the quality and depth of the papers and presentations," said Todd Peltzer of Navatek, the FAST 2011 conference organizing committee chairman. "The variety of the topics was exceptional, ranging from the esoteric to the practical to the curious."
For example, to build faster ships in the future, it is necessary to understand what has been successful in the past. Per Werenskiold of MARINTEK in Trondheim, Norway presented on the "most successful high-speed ships for their time," a paper that discussed the design and construction of the famous Viking longships that were the scourge of northern Europe in their day.
(As published in the November 2011 edition of Maritime Reporter & Engineering News - www.marinelink.com)