Marine Travelift Gains Exposure in S America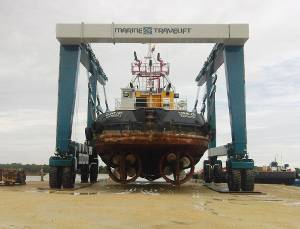 Marine Travelift Inc. recognized Ribeca Equipment Inc. as its newest dealership in South America. Created by Roberto Rizo Benedetto, along with his wife and two sons, the new company seeks to advance the Marine Travelift products throughout Venezuela, Colombia, Panama and Costa Rica. Rizo worked with Marine Travelift products for twelve years as the special projects manager with a South American machinery and equipment company. There he promoted sales of parts, service and new equipment for Marine Travelift line of products.
Rizo envisions an opportunity for use of Marine Travelift boat hoists in the Venezuelan oil industry. "It takes a lot of equipment to maintain their vessels. So boat hoists ranging from 100 – 300 tons may be possible."
In addition, Panama is expanding its
Panama Canal
and is looking into larger machines. "Units from 50 to 100 also have possibilities in Colombia and Costa Rica," he said.