Yank Marine Upgrades Marine Travelift Hoist at Tuckahoe Yard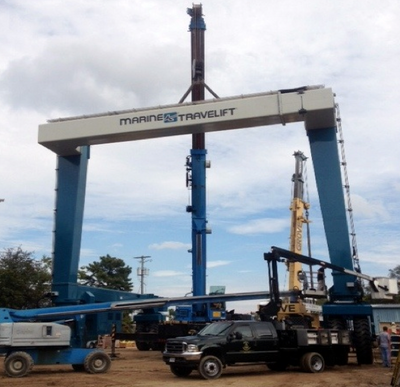 A new 300 mt marine lift for Yank Marine is being installed at its Tuckahoe, NJ shipyard.

This new 300 metric ton marine lift was transported from Marine Travelift in Sturgeon Bay, Wisconsin on ten trucks and is currently being erected on site. It was purchased using a $961,676.00 grant from the Maritime Administration under the Assistance to Small Shipyards Grant Program, and will replace Yank Marine Inc.'s existing 200 metric ton Marine Travelift.

As Yank Marine Inc. is one of only three commercial shipyards located within the State of New Jersey, it will now own and operate the only Travellift with this lfting capacity in the state.

In addition, the installation of this new 300 metric ton lift will also require the dismantling and relocation of their existing 200 metric ton lift to their affiliate company, Yank Marine Services LLC, which is located on the Maurice River in Dorchester, New Jersey. The installation of this unit at that facility will greatly increase lifting capacity there, and it will allow them to service a number of commercial fishing vessels working out of New Jersey's six major ports that will still be unable to access the new 300 ton lift at Yank Marine Inc. due to either the water depths of the Tuckahoe River or the obstructions presented by the four bridges that must be navigated in order to reach the yard.
Mr. John C. Yank Jr., President of Yank Marine Inc., confirms that in addition to his plan to relocate his 200 metric ton lift to Yank Marine Services, they will continue to move forward with their plan to purchase and install a 600 metric ton Marine Travelift at their Maurice River facility as it provides unobstructed deep water access to the Delaware River & Bay. They would thus be in a postition to provide all the services that are required by the larger commercial vessels that are now forced to travel to shipyards located in either Virginia or Massachusetts for service and repair.