Boaters' Week-end Mainly Spent Treading Water in Lake Erie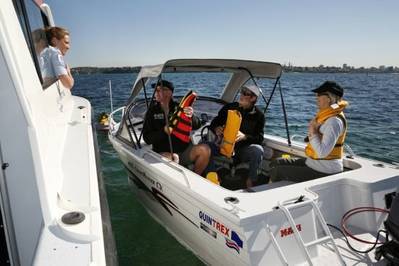 The Coast Guard inform that 3 boaters were rescued by a good Samaritan Sunday morning after spending 21 hours treading water in Lake Erie after their fishing vessel capsized near Conneaut, Ohio. Fortunately they wore lifejackets.
The three were found treading water, hanging onto the hull of their capsized 20-foot fishing vessel. They were suffering from hypothermia and were transported to shore, where EMS took them to a local hospital.
"The boaters involved in this incident are alive today because they did two very smart things — they had their life jackets on and they stayed with their boat," said Michael Baron, recreational boating safety specialist at the 9th Coast Guard District Auxiliary and Recreational Boating Safety Branch.

According to the Coast Guard Office of Auxiliary and Boating Safety's Recreational Boating Statistics 2012, the most current validated statistics available, 651 boaters died in U.S. waterways during that calendar year with more than 70 percent of those deaths the result of drowning. Among those 459 drownings, 379 deaths — or nearly 85 percent of the drowning deaths — involved victims who were known to not be wearing a life jacket.

The Coast Guard recommends that life jackets be worn at all times when out on the water. For boaters 13 years old and younger, a life jacket is legally required to be worn while boating.

The Coast Guard also recommends boaters remain in contact with someone onshore and also file a float plan. Float plans do not have to be written or submitted anywhere, but as long as someone knows the general facts of a boater's planned outing, they can report it to the proper authorities in case of an emergency.