Langh Tech Debuts New Water Treatment Systems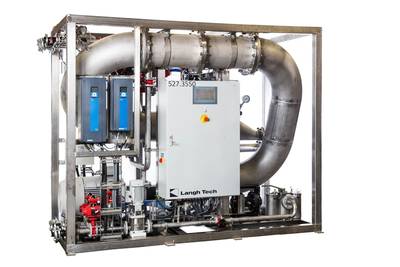 Langh Tech's new generation of water treatment systems has been launched with upgraded membrane technology to increase water cleaning capacity.
In 2017, Langh Tech launched a second generation of
water treatment systems based
on a new type of membrane filter elements. With the new elements, Langh Tech said a 50 percent increase in water cleaning capacity can be reached compared to the previous elements, without increasing the size of the water treatment units.
The new membrane elements has been tested onboard Langh Ship's M/S Marjatta from the first half of 2017, and results confirmed that the water cleaning capacity was increased by 50 percent without compromising any other system parameters.
The second generation water treatment system is available for both exhaust gas recycling (EGR) and SOx scrubbers, and is suitable for sea water as well as fresh water systems.