Truman Strike Group Returns to Norfolk, Remains Ready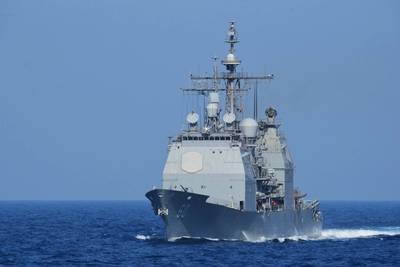 Nearly 6,500 Sailors of the Harry S. Truman Carrier Strike Group (HSTCSG) arrived in Naval Station (NS) Norfolk, Virginia, July 21.

The aircraft carrier USS Harry S. Truman (CVN 75) and strike group ships USS Normandy (CG 60), USS Arleigh Burke (DDG 51) and USS Forrest Sherman (DDG 98) arrived after operating for more than three months in the U.S. 5th and 6th fleets areas of responsibility.

"I couldn't be more proud of this strike group team's performance over more than three months of operating in a highly-dynamic environment across two theaters," said HSTCSG Commander Rear Adm. Gene Black. "We carried out the full spectrum of missions from sustained combat flight operations to training and integration with NATO allies and regional partners."

Black also emphasized that the strike group remains ready to surge forward or redeploy when called upon.

"Our strike group's missions have demonstrated we are inherently maneuverable and flexible while remaining operational unpredictable to any potential adversary," said Black. "This epitomizes the Navy's dynamic force employment concept and shows this strike group is ready and capable of accomplishing any mission, at any time, as our nation directs."

While in Norfolk, the strike group will not only conduct routine maintenance on ships, aircraft and equipment, but Sailors will also be able to continue advanced training, maintain warfighting certifications, as well as spend time with family and friends.

"I'm incredibly proud of the grit, determination and phenomenal effort Truman's Sailors have shown over the last three months operating at sea," said Harry S. Truman's Commanding Officer Capt. Nick Dienna. "While we plan to enjoy our time in port, including reconnecting with those who supported us from afar, we're continuing to stay focused and ready for whatever lies ahead."

While deployed, the strike group participated in a variety of partnership and interoperability exercises, as well as maritime and theater security operations. Strike group units participated in Exercise Baltic Operations (BALTOPS) from the Adriatic Sea and Exercise Lightning Handshake with the Moroccan Navy and Air Force.

Additionally, the HSTCSG conducted bilateral operations with allies and partners in both U.S. 5th and 6th fleets, to include Egypt, Morocco, Italy, France, Germany and the United Kingdom. Also, aircraft from embarked Carrier Air Wing (CVW) 1 supported Operation Inherent Resolve during May and June, flying 210 combat sorties totaling 1,500 flight hours in both Iraq and Syria.

The HSTCSG is comprised of flagship USS Harry S. Truman (CVN 75) with ships, aircraft and embarked staffs of Carrier Strike Group (CSG) 8, Carrier Air Wing (CVW) 1 and Destroyer Squadron (DESRON) 28.