Tubbataha Reef Wreck Removal Completed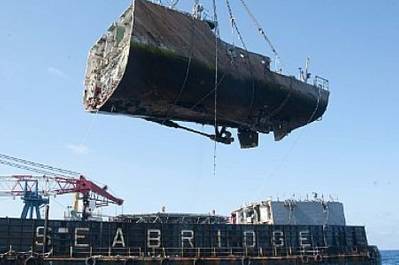 The stern section, the last module of the former minehunter 'USS Guardian' has now been removed by salvors.
In January 2013 the Navy mine countermeasures ship USS Guardian ran aground on a coral reef in the Philippines, inside Tubbataha Reefs Natural Park. The Navy removed the approximately 15,000 gallons of fuel aboard the ship and decided that the safest way to extract the Guardian from the reef was to deconstruct and carry it away in smaller sections.

The removal of the stern section completes the removal of the Guardian in its entirity from the reef.