First Gas Turbine-powered LNG Carrier Granted AIP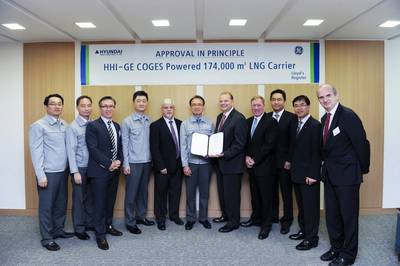 Hyundai Heavy Industries (HHI) announced it has jointly developed world's first gas turbine-powered 174,000 m3 LNG carrier with GE Aviation and Marine and has secured Approval in Principle (AIP) on the vessel from the U.K.-based Lloyd's Register.
The IMO Tier III-compliant 174,000 m3 LNG carrier is equipped with GE's gas turbine-based Combined Gas turbine Electric and Steam system (COGES 2.0). The vessel is expected to save shipowners or operators an estimated 20 billion Korean won ($17.83 million) on the assumption that the LNG carrier operates for 20 years with an annual operating cost of $720,000, since it does not need additional equipment to handle exhaust emissions, HHI explained.
According to the shipbuilder, the gas turbine-powered engine is 60 percent lighter than conventional engines and will lower operating and maintenance costs accordingly. Durability and low vibration/noise of the engine are also test-proven over 70 million hours of application on offshore platforms, onshore power plants and high-speed ferryboats.
"The LNG carrier we introduce today is a culmination of the seamless teamwork of GE and HHI," said Shin Hyun-soo, CTO of HHI. "We will continue to enhance our competitiveness through ongoing technological cooperation including the application of the gas turbine engine to large containerships."