Uber-Style Cargo Moving App Catching on at Congested LA Ports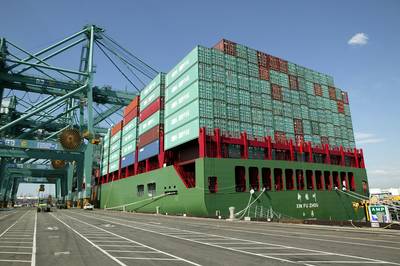 Los Angeles area ports are using a Uber-style app called Cargomatic to help clear congestion from recent slowdowns, the Wall Street Journal reported yesterday.
After labor strife created what may be delays of up to two months, container terminals on the Pacific coast have no choice but to find new ways to speed the unloading of cargo. At the Port of Los Angeles, the use of the new Cargomatic app is allowing drivers to pick up whatever cargo is coming off a vessel the moment the truck arrives and deliver it to waiting customers.
"Some terminals have been trying a novel idea: When a truck driver shows up, put the first container off the top of the stack on the truck and send it on its way. No more moving other containers around to dig out specific cargo—just get it all off the dock as fast as possible," writes WSJ's Erica E. Phillips.
"The concept isn't entirely new. Many megaretailers use what is known as free-flow or peel-off operations at the ports. If there are enough containers destined for the same cargo owner, all arriving on the same ship, longshore crane operators can stack them together and load them on to the retailer's trucks as they arrive."
By using Cargomatic, Port authorities can use "free flow" operations for smaller retailers as well.
"Drivers show up to the West Basin Container Terminal—again, no appointment necessary—and are given the first container off the top of the 'Cargomatic pile,' or goods destined for any customer signed up for the program. The driver logs the pickup in the app, which provides instructions on where to take the container and pays the driver automatically. (Currently, deliveries are limited to within 150 miles of the port.)"
Currently, the app only works for the Los Angeles area, although the app is running in beta mode in New York City, the Journal reports. The average turn time for Cargomatic truck drivers was half the time it usually takes under the current "dig-out" model.