UK Royal Navy's Experimental Ship Starts Sea Trials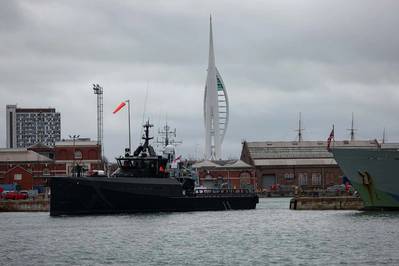 The U.K. Royal Navy's NavyX trials ship, XV (eXperimental Vessel) Patrick Blackett, left Portsmouth Naval Base to undergo sea acceptance trials - ensuring the vessel and its onboard equipment is fully functioning and ready to support innovative experimentation.
The ship will be used by NavyX innovation and autonomy team to independently test and trial novel technologies, including unmanned underwater vehicles and unmanned surface vehicles, paving the way for advanced experimentation, innovation and future capabilities within the Royal Navy. NavyX also operates two of the Royal Navy's autonomous vessels, MADFOX and APAC-24.
The new 270-tonne vessel, a Damen-built FCS 4008, bears the name of the former Royal Navy Officer and Nobel Prize Winner Patrick Blackett.
Once this phase of sea trials is complete, XV Patrick Blackett will be ready for her next venture, autonomous exercises with NATO allies.