UK Spurs Autonomous Shipping Development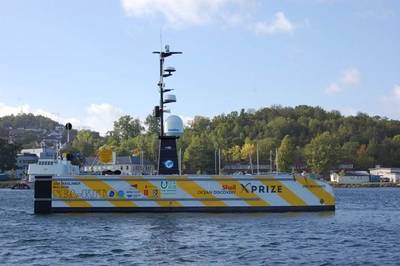 The autonomous and smart shipping industry is set to receive a boost, after the Maritime & Coastguard Agency (MCA) and the Department for Transport (DfT), in collaboration with the National Oceanography Center's (NOC) Marine Robotics Innovation Center, successfully secured £1 million in a bid to accelerate the U.K. into a world-leading position in this area.
The funding, awarded by the U.K. Government's Department for Business, Energy and Industrial Strategy's Regulators' Pioneer Fund, will be used to pioneer new ways of regulating the autonomous and smart shipping industries to help them deliver innovative new technologies to the traditional maritime sector.
The global autonomous shipping industry is predicted to grow into a $136 billion behemoth by 2030, with U.K. businesses already playing a key role. The funding will see the creation of the Maritime Autonomy Regulation Lab, where regulators from the MCA and DfT can work with academia and support industry to promote on-water testing and flagship projects and help the U.K. grow its presence in the global marketplace.
Shipping Minister Nusrat Ghani said, "Emerging technology will help the U.K.'s maritime sector evolve to be more efficient, safer and greener.
"Technology and innovation is a key part of Maritime 2050, which will set a vision for how our maritime sector will grow and ensure we are ready to maximize its potential.
"This £1 million funding will support us to work alongside industry and researchers to ensure our approach to the regulation of autonomous shipping is informed and aligned with developments in technology."
Sir Alan Massey, CEO of the MCA said, "Autonomous shipping will play an increasing role in the future of the maritime industry. This new funding represents an enormous opportunity to accelerate the great work we're doing to support our maritime industries.
"We have already seen an extraordinary demand for this regulatory work and we are confident that we can drive forward future-ready regulations, to be best placed to respond to the challenges and opportunities this fast-moving industry will bring."
Aidan Thorn, Marine Robotics Innovation Center Manager for the NOC said, "The National Oceanography Center, alongside partners in our Marine Robotics Innovation Center, are at the forefront of the innovation that will enable greater utilization of marine autonomy. As these technologies become more prevalent in the ocean the need to regulate their operation also increases. This new Lab will enable key stakeholders to engage in this important element of autonomous operations at sea."
Business Secretary Greg Clark said, "The U.K.'s regulatory environment is recognized as being among the best in the world and through our modern Industrial Strategy we are building a business environment in which Britain's dreamers, developers and disruptors can continue to thrive.
"The Regulators' Pioneers Fund will mean innovative projects such as the Maritime Autonomy Regulation Lab can be established, further strengthening our regulatory system and ensuring that it keeps pace with the innovation and technological advances needed to power our economy now and in the future."