Underwater Survey System Patented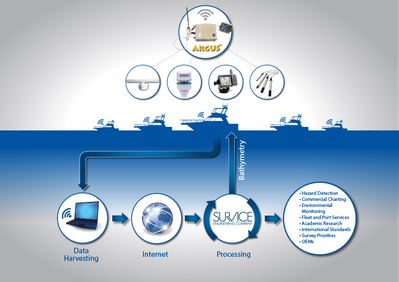 The U.S. Patent and Trademark Office has issued a patent for the ARGUS™ (Autonomous Remote Global Underwater Surveillance) system.
The purpose of ARGUS™, which has been in operation and field testing since 2010, is to automate the acquisition and processing of depth, environmental, and meteorological data from coastal and inland waterways and provide the data to Government, commercial, academic, and other interested organizations.
The autonomous onboard system (without the need for any crew intervention) continuously processes and transmits GPS position and single-beam sonar data from a growing network of commercial and recreational mobile marine platforms to supplement nautical charts, many of which have become outdated and inaccurate.

This "crowdsourced" bathymetry (CSB) approach to data collection is an innovation that leverages existing infrastructure and a potentially unlimited workforce. The cost-sharing of data products results in low-cost bathymetry and other data and utilities that are valuable to many different interests. Since 2010, ARGUS™ has acquired more than 80 million soundings from a distributed fleet of vessels navigating U.S. and international waters.

John and William Hersey, inventors of the surveying system:
"Your vessel provides an efficient means of data acquisition, and cost sharing of processed data provides a prudent means to survey the areas that you most frequently travel. In addition to helping to prioritize Federal efforts, you benefit by having improved, community generated chart products at a fraction of the cost of current methods, and in places that haven't been surveyed in decades. And the Wave WiFi, integrated into the ARGUS onboard units for data offload, provides multipurpose Internet connectivity."
To find out more click here.