Permanent Underwater Insert Repair in Algeciras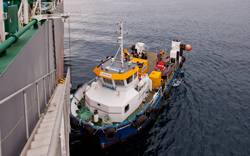 Recently Hydrex Spain carried out a permanent insert repair on a 225-meter cargo vessel at anchorage in Algeciras.
The vessel had suffered a stress-related crack on the port side next to the bilge keel and water was coming into the ballast tank. The classification society therefore required that a repair be carried out before the end of the month.

After arrival on site and installation of a workstation, both an on-board and an underwater inspection were made of the damaged area. This revealed that a 450mm x 335mm insert plate needed to be installed.

Before the team could install the cofferdam that would seal off the damage, part of the bilge keel needed to be removed. When this was done and the cofferdam was in place, the diver/technicians cut away the area around the crack to the same size as the insert, which was then welded with a deep penetration weld according to the class approved Hydrex procedures.

During the operation similar damage was found in the same location on the starboard side of the vessel. The team therefore used the same procedure to install a 700mm x 335mm insert plate on that side as well.

As a result of the permanent repair carried out with the ship at anchor, further attention to the hull cracks will not be needed during her next drydocking. The vessel was ready to sail on time as the repair was carried out well within the available time frame.

If you would like to learn more about underwater insert repairs or other Hydrex services, visit our brand new website which combines the content of our previous Hydrex and Ecospeed websites and much more. Feel free to contact us 24/7 for further information. Our technical department is ready to create a tailor made quotation for your specific needs.