SAILOR VSAT Antenna Systems Unveiled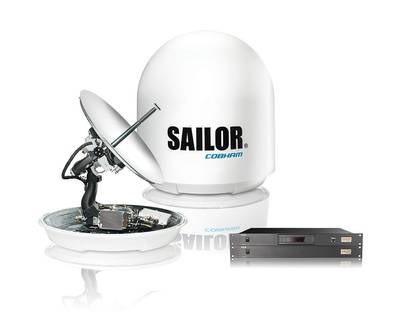 Press release - The team at Cobham SATCOM is unveiling a new generation of 60cm Ka-band VSAT antenna systems at Monaco Yacht Show this week.
The new SAILOR 60 GX and SAILOR 600 VSAT Ka are based on a lightweight, high performance Ka-band VSAT platform designed for Inmarsat Global Xpress and Telenor THOR 7 High Throughput Satellites (HTS) services.
Sharing the same design and lightweight carbon fiber composites/aluminum construction, the SAILOR 60 GX and SAILOR 600 VSAT Ka weigh 37kg. While being the lightest antennas in the 60cm VSAT class, both retain the performance and reliability of larger SAILOR VSAT and GX antennas. For yachts, fishing vessels, short sea shipping and ships with space restrictions, SAILOR 600 VSAT Ka and THOR 7, and the combination of SAILOR 60 GX, SAILOR FleetBroadband and Inmarsat Fleet Xpress meet the demand from owners, guests and crew for maritime Internet closer to that experienced on land.
Joining the Cobham SATCOM VSAT antenna portfolio, which already includes 100cm
class antenna systems
for new Inmarsat and Telenor Ka band HTS services, the smaller, lighter SAILOR 60 GX and SAILOR 600 VSAT Ka are easily lifted or carried onto a yacht and installed without taking-up too much precious space. This can reduce installation costs and the use of modern, lightweight materials does not affect performance, the manufacturer said.
The SAILOR 60 GX and SAILOR 600 VSAT Ka also introduce other installation benefits, especially for smaller craft, which can now operate smarter through harnessing the power of HTS VSAT services. The size/performance balance of Cobham SATCOM's new antennas is possible because HTS services use spot beams instead of wide beams, so with advanced engineering and software design, they can operate anywhere in the satellite footprint and provide a strong link to the satellite.
Installation of both new antenna systems is easy, thanks to features and details including a single cable between antenna and
below deck equipment
for RF, power and data and Automatic Azimuth Calibration and Automatic Cable Calibration for 'one touch commissioning'. Additionally, the use of Dynamic Motor Brakes inside the antennas removes the requirement for mechanical brake straps, ensuring antenna balance in no-power situations at sea or during transport.