TORM Updates Fleet Status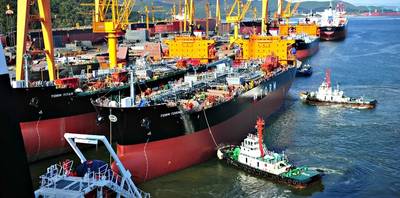 Denmark shipping company that owns and operates product tankers and bulk carriers TORM exercised two options for the construction of two LR1 newbuildings for a total commitment of USD 74m and with expected delivery in 2019 through the first quarter of 2020.
In connection with the two newbuildings, TORM has secured commitment from ABN AMRO for attractive vessel financing of up to USD 50m, subject to documentation.
As of 31 December 2017, TORM had available liquidity of USD 405m, consisting of USD 134m in cash and USD 271m in undrawn credit facilities excluding the
ABN AMRO financing
. For the full year of 2017, TORM expects an EBITDA in the range of USD 155m-160m and a profit before tax in the range of USD 0m-5m excluding any potential outcome of the annual impairment test.
As of 19 January 2018, TORM had covered 40% of the earning days in the first quarter of 2018 at an average TCE of USD/day 15,926.
During the fourth quarter of 2017, TORM's vessel values trended up. The total value of TORM's fleet increased by approximately 4% compared to 31 September 2017.
As of 31 December 2017, the value of TORM's fleet including newbuildings was USD 1,579m based on broker valuations. Outstanding CAPEX relating to the order book amounted to USD 233m, excluding the two LR1 newbuildings.
A 2018 allocation of the Long-Term Incentive Program (LTIP) is expected to be granted to the Executive Director, members of TORM's Senior Management Team and certain key employees, subject to approval at the 2018 Annual General Meeting. The allocation is expected to be substantially in line with previous years.