US Coast Guard and Space Force Partner on R&D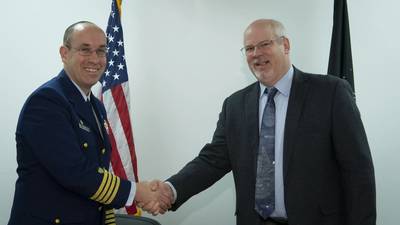 The United States' Coast Guard and Space Force are teaming up to share information resources and identify opportunities for applied research and advanced technology development.
A memorandum of understanding (MOU) inked by the U.S. Space Force Science, Technology, and Research Directorate and U.S. Coast Guard Research and Development Center on January 19 will expand Space Force access to USCG Research and Development Center facilities, infrastructure and personnel.
USSF Dr. Joel Mozer, USSF science, technology and research director, signed the MOU alongside Capt. Daniel Keane, USCG research and development commanding officer.
"The Coast Guard is more than 230 years old, and the Space Force just three," Mozer said. "The nation's newest service has a lot to learn from one of its oldest on how to provide national power and security in a burgeoning new domain full of new economic and geostrategic opportunity, but also representing unknown threats."
"The Coast Guard is a forward-leaning organization with an eye to the future," Mozer added. "The Space Force wants to take advantage of their methods of strategic foresight and apply them to our own space problems, where technology developments overlap between the two services, we want to partner."
"We are excited for the opportunity to partner with the Space Force in potential future research, as well as share researchers and best practices," Keane said. "We quickly realized the value that this relationship presented for both agencies soon after the Space Force participated in a Coast Guard strategic study that examined the Coast Guard's future role in space governance, use of spaced based technology and research areas."