US Navy Suspends Search for Missing Sailor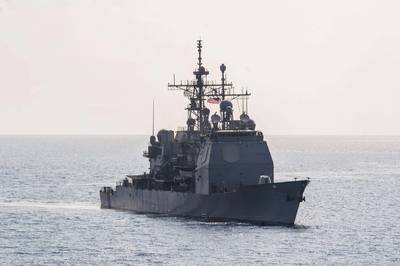 The U.S. Navy has called off its search for a sailor missing from USS Lake Erie (CG 70) after four days scouring the eastern Pacific Ocean.
U.S. Navy and Coast Guard assets suspended search and rescue operations at sunset, approximately 7:30 p.m. local time, Thursday, after an extensive search was unable to locate the sailor who was first reported missing Sunday.
The Ticonderoga-class guided-missile cruiser was deployed on routine training operations with John C. Stennis Carrier Strike Group (JCS CSG) when it initiated man overboard procedures Sunday, at approximately 7 a.m. local time after the sailor failed to report for duty and several attempts to locate the Sailor aboard the ship were unsuccessful.
Seven U.S. Navy ships along with multiple Navy and U.S. Coast Guard (USCG) aircraft, including Navy MH-60 helicopters and E-2 Hawkeye, Coast Guard C-27 Spartans and MH-60 Jayhawk, and a U.S. Customs and Border Patrol aircraft flew more than 140 sorties, searching more than 16,550 square nautical miles of open water. Lake Erie served as on-scene commander and USCG District 11 as mission coordinator throughout the operation, the Navy said.
The incident remains under investigation.
"My thoughts and prayers are with the Sailor's family during this difficult time," said Capt. Christine O'Connell, commanding officer of Lake Erie. "Losing a shipmate is devastating and felt by our entire crew. We will continue to support the family in any way we can."