US West Coast Port Labor Unrest Continues Amid Pay Quarrel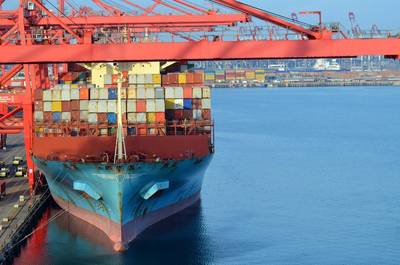 The largest terminal at Southern California's Port of Long Beach closed on Monday as dockworkers who have been working without a contract since July rally for better pay.
The Port of Long Beach is the second-busiest U.S. container terminal and a key trade gateway. Monday's closures followed similar disruptions on Friday in Oakland, California.
Total Terminals International LLC (TTI) in a notice to customers said all appointments were canceled for the first gate shift. Mediterranean Shipping Company SA (MSC), the world's largest container shipping line, owns a majority stake in the terminal.
Representatives from TTI and the International Longshore and Warehouse Union (ILWU), representing some 22,000 West Coast dockworkers, did not immediately respond to requests for comment.
TTI decided to close on Monday "based on its own operational needs," said port spokesperson Lee Peterson, who added that the port's other terminals were operating and that cargo was moving.
Contract talks between the Pacific Maritime Association (PMA) and the ILWU have stretched into their 13th month.
ILWU workers were vital to keeping goods moving during the early days of the COVID-19 pandemic and want to be compensated for putting their lives at risk during that time, when ocean carriers like MSC were reaping record profits. Many West Coast terminals are fully or partly owned by those shipping companies.
(Reuters - Reporting by Lisa Baertlein; Editing by Will Dunham)