USMMA to Celebrate 75th Anniversary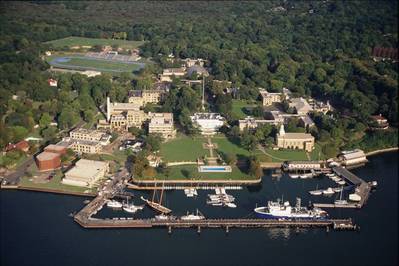 The U.S. Merchant Marine Academy at Kings Point (USMMA) will celebrate 75 years since initial dedication in 1943, at homecoming this weekend. Events scheduled include a 75th anniversary dinner, the season's first home football game for the 2-0 Mariners, a parade by the Regiment of Midshipmen, and the ceremony of Beating Retreat.
"We are pleased to welcome alumni classes, families and friends for a jam-packed homecoming weekend at USMMA, especially the 75th anniversary events," said George Rhynedance, Academy spokesperson.
The 75th anniversary dinner will be highlighted by remarks from distinguished speaker, Vice Adm. Johnny R. Wolfe, Jr., from the Navy's Office of Strategic Systems Programs. In addition, Rear Admiral James A. Helis, Academy Superintendent, and Dr. Josh Smith curator of the American Merchant Marine Museum will unveil a refurbished tribute to the 142 Cadet-Midshipmen that lost their lives in World War II. The artifact, which is located in the dining hall at the Academy, has been covered for 73 years.
The parade will feature the Regiment of Midshipmen, including the Regimental Band, George M. Cohen's Own, and the Regimental Color Guard. The Reviewing party for the parade will include Helis and Maritime Administrator, Rear Admiral Mark H. Buzby.