BMT Isis Validates Approach Channel Design for New Aircraft Carriers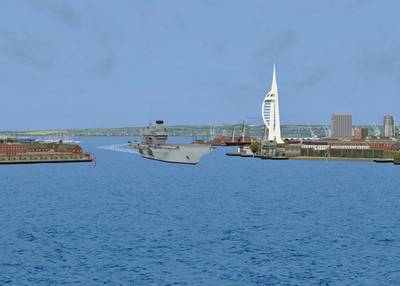 BMT Isis Ltd., a subsidiary of BMT Group Ltd., has announced the completion of its latest project to validate BMT's design for the Portsmouth Approach Channel, a design conceived to ensure that the Royal Navy's new Queen Elizabeth-class aircraft carriers, HMS Queen Elizabeth and HMS Prince of Wales, can transit safely into and out of their home base at HMNB Portsmouth.
Having developed the design for Defense Infrastructure Organization (DIO) six years ago, as well as completing initial validation work using desk-top simulation and peer review, involving RN navigation experts, it was necessary to provide final validation. BMT utilized a full-mission simulator, working in real-time with RN navigation experts, in a realistic bridge environment.
Working closely with the DIO and the Royal Navy, BMT provided the necessary computer model results, data handling and analysis for the study at the Navigational Training Unit of HMS Collingwood's Maritime Warfare School. On completion, the RN personnel were happy with the proposed channel design and satisfied that it would allow the safe arrival and departure of the aircraft carriers at Portsmouth. Final validation was therefore complete.
"Our particular role was to help the Royal Navy better understand how the vessels are likely to handle at low speeds and ensure the navigational process can be conducted as effectively as possible," said Ian Dand, Principal Consultant at BMT Isis. "We defined the necessary parameters and tailored the simulator accordingly, so that the navigational characteristics of the aircraft carrier could be reproduced. This allowed the navigators to better understand the topography of the new channel, what aids to navigation were required, and where they need to be placed, thereby improving confidence in the proposed Approach Channel design."