Port Metro Vancouver Ups Security as Protests Linger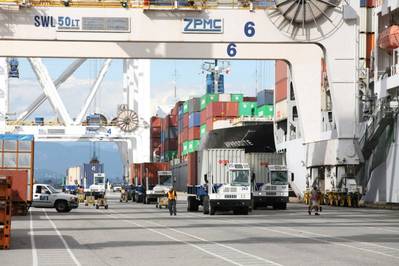 Facing the prospect of continued disruption of port operations by disgruntled container truckers, Port Metro Vancouver said it is taking immediate steps to enhance the safety of the port for working truckers.

At the same time, the port said it is working with federal and provincial governments, shippers and trucking companies to address trucker concerns and the continued instability of the container trucking industry.

Port Metro Vancouver will be seeking continuation and expansion of our injunction to keep protestors off port property. Additionally, the port will continue a program implemented last week of placing security personnel in working trucks to record events and assist drivers wanting to access port terminals while enhancing security presence at key locations and access points for traffic headed to or from the port.

Independent owner/operator truckers and truckers who are members of the union, Unifor, voted on March 8 not to accept the recommended framework for returning to work agreed to by their leadership with the help of third-party intermediary Vince Ready. Ready had met with truckers two days prior, encouraging them to return to work with the commitment to an industry review as requested by Federal Minister of Transport Lisa Raitt.

"The purpose of Mr. Ready's appointment was to conduct a review of an industry that is clearly not functioning well for all stakeholders," said Port Metro Vancouver President and CEO Robin Silvester. "We agree that truckers should be paid a fair wage, but bargaining relating to employment and contract relationships can only be done with the employer or the parties to the contract. Port Metro Vancouver is not the employer and is not party to the contract relationships."

The disruption over the past several days has had a dramatic effect on the ability of terminal operators to move goods. "The impact of truckers walking off the job is in the order of about $885 million per week," said Silvester. "Goods are not moving and that is bad news for consumers and businesses."

Port Metro Vancouver is Canada's largest port and trades $172 billion in goods annually with more than 160 trading economies, generating across Canada an estimated 100,000 jobs, $6.1 billion in wages, and $9.7 billion in GDP.