New Fuel Station for Vancouver Harbour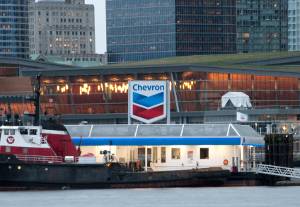 In December 2009, the Chevron Legacy, a new and now the only marine fuel station for Vancouver Harbour, was completed by the builders, Alaska Ship & Drydock, Inc. of Ketchikan, Alaska. The station was then towed to Vancouver and was installed and made operational in late January, 2010. This station replaced the Chevron barge S.O.B.C. No. 5 which has been moored in Coal Harbour since it was built in 1959. Both the original fuel barge and the modern replacement were designed by Robert Allan Ltd., Naval Architects of Vancouver, B.C. The project leaders at Robert Allan Ltd. for this vessel were Bart Stockdill, P. Eng., Project Manager, and Allan Turner, P. Eng., Project Engineer.

The Chevron Legacy has many unique features reflecting its critical role serving the marine community of the lower BC coast. The most critical feature is the fact that this is now a complete double-hulled structure to mitigate any risk of oil pollution from inadvertent hull damage. In addition, the decks are designed to capture rain water and any oil contamination for onboard processing and then disposal ashore. Rainwater landing on the roof is directed overboard through large diameter scuppers without landing on the decks.

The station has the following storage capacities:
Marine diesel 339,197 gal
Gasoline 42,400 gal
Lube Oils 20,896 gal in bulk tanks
2,113 gal in drums
The maximum fuel discharge rate is 13,209 gal per hour.