Venture Global LNG: Minimal Impact of Hurricane on LNG Construction Site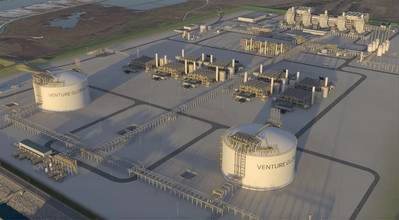 LNG developer Venture Global LNG has said that its under-construction LNG project Calcasieu Pass LNG in Cameron, Louisiana has sustained "minimal impacts" from Hurricane Laura which made landfall early on Thursday in southwestern Louisiana as a category 4 storm.
Venture Global LNG is building the 10 MTPA Calcasieu Pass facility at the intersection of the Calcasieu Ship Channel and the Gulf of Mexico, that is expected to become operational in 2022.
In a statement on Thursday, the company said that the hurricane had passed directly over the project site after landfall and that it had minimal impact.
"A walk-through inspection of most areas of the site following the storm confirmed that the project site's robust storm protection system, including a perimeter wall and stormwater pumping system, performed as designed. Most importantly, all employees and contractor personnel are safe and accounted for," the company said.
Venture Global said it was working with its EPC contractor, Kiewit Louisiana Co., "to promptly and safely regain access to the project site and supporting facilities, restore utilities to Cameron and the project site, and incrementally support the return to work of craft and Venture Global personnel."
Bob Pender and Mike Sabel jointly stated, "While we are relieved by the minimal impacts to Calcasieu Pass LNG, we are mindful that the surrounding communities of Cameron and Lake Charles have suffered significant damage from this powerful and historic storm. As a company, we will be communicating with local stakeholders in the days and weeks to come to assess how we can support the community's recovery."
Once completed, the Calcasieu LNG project will comprise eighteen 0.626 MTPA liquefaction trains configured in 9 blocks, three pre-treatment trains, each with 50% capacity, two ship loading berths for LNG vessels carrying a capacity of up to 185,000 cubic meters, two 200,000 cubic meter full containment LNG storage tanks, and 720 MW combined cycle gas turbine power plant, including an additional 25 MW gas-fired aeroderivative turbine.