First Vessel Heads for MD's Cove Point LNG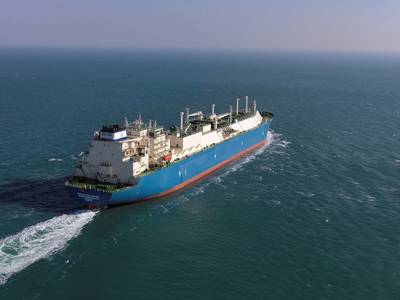 The first liquefied natural gas vessel, the Maran Gas Delphi, was headed Thursday for Dominion Energy Inc's Cove Point LNG export facility in Maryland, a Reuters interactive map showed, with the facility expected to enter service by the end of the year.
Cove Point will be the second large LNG export terminal in the lower 48 U.S. states, after
Cheniere Energy Inc's Sabine
Pass terminal in Louisiana, which exported its first cargo in February 2016.
The Maran Gas Delphi, which is currently entering the
Chesapeake Bay
, is expected to arrive at the $4 billion terminal later Thursday. It can hold about 3.3 billion cubic feet (bcf) natural gas.
One bcf is enough fuel for about 5 million U.S. homes.
With Sabine Pass, Cove Point and a couple of other export terminals under construction, the United States is expected to have the third-biggest LNG export capacity in the world by the end of 2018.
U.S. LNG export capacity is expected to soar from 3.0 billion cubic feet per day (bcfd) now to 3.8 bcfd by the end of the year, 5.3 bcfd by the end of 2018 and 10.1 bcfd by the end of 2019.
Reporting by Scott DiSavino