Navy March Closes New York Veterans Week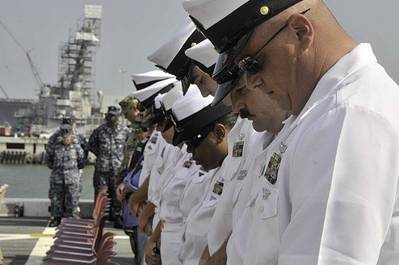 Several hundred Sailors from 'USS New York' (LPD 21) and various local commands marched up Fifth Avenue in the heart of New York City during America's Parade, the culminating event of Veterans Week New York City, Nov. 11., 2013.
Veterans Week New York City and America's Parade are a continuation of a New York tradition that began in 1919, honoring the service and sacrifice of American veterans. Sailors participated in over 40 events throughout the week, providing opportunities to meet with local veterans and to share their personal experiences with many New Yorkers. 


Secretary of the Navy Ray Mabus was in the city on Veterans Day as part of the remembrance. 

"It is important for us to remember the sacrifice of all our veterans. The impact they have had on our nation cannot be overstated," said Mabus. "For more than 238 years, our Sailors and Marines have provided a global presence, defending America's interests far from home, as part of the finest expeditionary fighting force the world has ever known. This legacy was built upon the selfless sacrifices of our veterans, those who have willingly stood the watch, in harm's way, for decades." 


The arrival of USS New York was one of the highlights of Veterans Week and offered the public an opportunity to interact with the Navy up close and to thank Sailors and Marines. Thousands of visitors toured the ship's vehicle storage spaces, flight deck, and hangar bay.