Video: RoRo Ship to be Fitted with Tilting Rotor Sails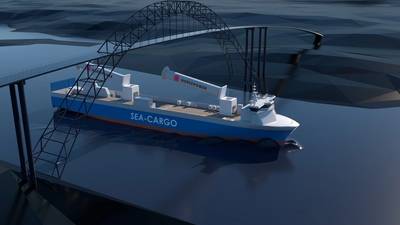 A RoRo cargo ship operating in the North Sea will be fitted with two of Norsepower's largest Rotor Sails, reducing the vessel's total emissions by as much as 25%.
The Rotor Sail is essentially a modernized version of the Flettner rotor, a rotating cylinder that uses the Magnus effect to harness wind power to thrust a ship, taking some of the load off of the ship's main engines and therefore reducing fuel usage and emissions.
At 35 meters tall and five meters wide, the Rotor Sails slated for retrofit on board Norwegian shipping company Sea-Cargo's SC Connector will be the largest ever built by Finnish company Norsepower.
They'll also be the first to have a tilting function. The 12,251 gross tonne sidedoor RoRo vessel operates on routes that require the ship to navigate under multiple bridges and powerlines, so Norsepower and Sea-Cargo jointly developed the Rotor Sails to be tiltable. When required, they can be raised and lowered to almost horizontal while underway, which will also be helpful when encountering extreme conditions in the North Sea.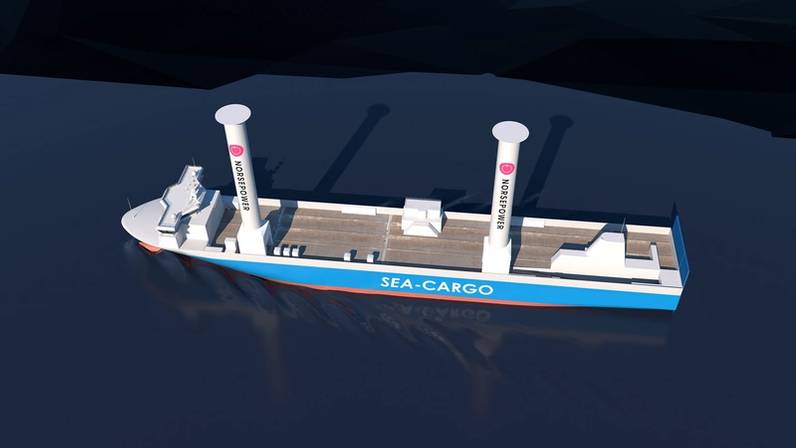 The SC Connector's total airdraft will be 56 meters, 8 meters taller than the Statsraad Lehmkul, which is currently Norway's tallest sailing ship. (Image: Sea-Cargo)
"By fitting rotor sails to SC Connector, we are utilizing available renewable energy. The wind forces are used directly for propulsion, without the transformation losses associated with other energy carriers. As a sailing hybrid, we expect to reduce the fuel consumption and CO2 emissions by 25%," says Johan Christian Hvide, CTO, Sea-Cargo's parent company Seatrans.
The North Sea allows for some of the world's most favorable winds for Rotor Sails. "In good wind conditions, the sailing hybrid vessel will maintain regular service speed by sail alone," says Ole Sævild, Managing Director, Sea-Cargo.
Preparations for the retrofit on the SC Connector are currently taking place with the installation scheduled for the fourth quarter of 2020. In addition, a battery pack from Norwegian Electric Systems will also be installed, allowing the ship to avoid the use of auxiliary engines, which means that the ship can can be 100% emission free during sailing and at quay.
"With a growing international focus on reducing CO2 emissions and other gases/particles, the ability to harness wind to generate energy, reduce fuel consumption and emissions is a natural next step for the maritime transport industry. The goal of this project has been to design more environmentally friendly vessels by combining several existing technologies," says Sævild, who adds that the project is expected to save more than 1 million liters of diesel fuel annually.
"In addition to lower emissions, the project is customized to a future smart grid and prepared for shore power," Sævild says. "The project has received funds from Enova for its environmental profile."
Tuomas Riski, CEO, Norsepower, says, "Rotor Sails are particularly well suited to RoRo vessels, and working with Sea-Cargo to deliver a tilting Rotor Sail ensures we are providing an adaptable solution which fits with particular vessel requirements, specifically demonstrating vessels with height restrictions to benefit from the Rotor Sail solution."
Norsepower has now installed Rotor Sails onboard four vessels, including another North Sea RoRo vessel M/V Estraden, as well as as LR2 tanker Maersk Pelican and RoPax ferries Viking Grace and Copenhagen. Norsepower says each installation has made significant reductions to fuel costs and emissions, confirmed by independent verifiers such as ABB, NAPA and Lloyd's Register.
The Norsepower Rotor Sail is the first third-party verified and commercially operational auxiliary wind propulsion technology for the global maritime industry. The solution is fully automated and detects whenever the wind is strong enough to deliver fuel and emission savings, at which point the Rotor Sails start automatically.