Vigor Wins $30 Mln Ship Maintenance Contract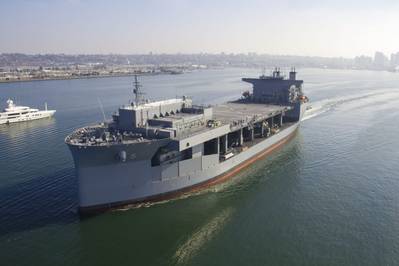 U.S. West Coast shipbuilder and repair provider Vigor Marine has been awarded a $30,269,098 firm-fixed-price contract for a 120-calendar day post shakedown shipyard availability of the expeditionary sea base ship Miguel Keith (T-ESB 5), owned and operated by the U.S. Navy's Military Sealift Command.
Work will be performed in Portland, Ore. and is expected to be complete by December 2020.
Work will include the furnishing of general services, shipboard access, clean and gas free tank voids and cofferdams, machinery room to pump room watertight door, machinery space deck utilization plan, hull perimeter lighting, machinery space closed circuit television monitoring system and bow camera, install of the third air condition plant in forward house, aft house grey water system isolation, segregate grey and black water transfer line, forward main fire loop installation, aft house habitability mods and engineering control room No. 1 deck head install.
The contract includes options which, if exercised, will bring the total contract value to $30,985,070.
Vigor was the only yard to bid for the project. Military Sealift Command is the contracting activity.
USNS Miguel Keith, built at the General Dynamics, NASSCO shipyard in San Diego, is the fifth ship in the expeditionary mobile base platform build for MSC, and the third expeditionary staging base model. Commissioned and delivered to the MSC fleet in the second half of 2019, the ship supports a variety of maritime-based missions, including Special Operations Forces and Airborne Mine Counter Measures support operations, humanitarian and traditional military missions.