Vocational Training Options Grow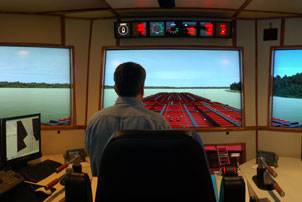 From MarineNews, March 2010
Vocational training options continue to expand since the STCW 1995 rules put a crimp in the hawsepipe. The Pacific Maritime Institute's (PMI) Workboat Academy has graduated its third class of mates. The State University New York (SUNY) Maritime College has opened a new two-year engineers program. Finally, Kirby's training school continues to provide company employees with an in-house route to the wheelhouse.

Kirby training school continues to expand its scope
"We made the decision in 1995 that we weren't going to be able to rely on other entities to provide training for our people," said Patrick Kelly of Kirby Corporation. Kelly was Vice President of Personnel in Training at Kirby Training Center before becoming Vice President of Kirby Logistics Management on Jan. 1, 2010. Kirby's in-house training center is located in Channel View Texas, about 15 miles east of downtown on the Houston Ship Channel. At first the training center was focused on basic programs, Kelly said. But as customer and regulatory requirements increased, so did the scope of training. Currently there are about 23 different classes, 14 of which have Coast Guard approvals and are associated with the issuance or renewal of Coast Guard documents. The Kirby training center is approved to administer Coast Guard tests and is subject to auditing by the agency.
Kirby now has a great deal of experience with the Coast Guard approval process, including developing curriculum, submitting instructor staff credentials and accounting for the physical training facilities. All of this now goes through the Coast Guard National Maritime Center, in W.V., which became fully operational within the last year and a half. "We have a very good relationship with them," Kelly said. "We have a large amount of transactions and we speak with them every day of the week." Recent developments at the center include the fully integrated radar lab and wheelhouse simulator which was installed in 2008-2009. Long-standing resources include the Kirby 101, a smaller scale steel barge used solely for training. The Kirby 101 transfers water instead of petroleum liquids and demonstrates types of valve arrangements and barge equipments.
Kelly explained the mechanism through which the company brings in new employees hired as tankerman trainees, one of the major purposes of the training center. The entry point is the basic 12-day seamanship course. The course does not issue an AB or ordinary seaman's document, but is an internal requirement for Kirby's operational force. It prepares new Kirby hires for the realities of barge work, "so they can make the right decision, if this is what they want to do," said Kelly. The first five days of the course is conducted in the classroom. The second half is conducte on designated training vessels in the Houston area, performing routine tasks like line handling and working with winches.
After a time underway on Kirby vessels, trainees may return to the training center for the Tankerman Merchant Mariner credential program, a 14-day course. It consists of 12 days of classroom and field training and 16 hours of firefighting training. Then the trainee performs a two-day practical test assessment including a demonstration of cargo transfers. "Upon completion of the course," Kelly said, "the center can actually hand them their credential."
Later on in his or her career the tankerman may pursue Kirby's Mate (pilot) of Towing Vessels license preparation course. "This is the mechanism for tankerman personnel who successfully meet our internal requirements to take, and hopefully pass, the Coast Guard exam for Mate (pilot) of Towing Vessels." The course is 19 days long including general plotting and charting. "It is the pathway for our tankermen and deck force with the interest and capability to move into the wheelhouse," Kelly said. "We prep them for inland waters and western rivers." The exam is administered at the training center and the documentation is sent to the Coast Guard which will in turn issue the license, if all goes well.
"We have very good retention of our employees," Kelly said. "We view this internal training program as part of that." The scope of the training center has even grown beyond Kirby's own personnel. "Sometimes Coast Guard personnel (generally in the marine inspection field) or customer representatives will enroll to give them a better understanding of the nature of our work, the challenges we have and our working environment," Kelly said. "We offer one course a month specifically designed for our customers: Intro to Tank Barge Operations, a one-day course." Kelly said this course benefits customer personnel, such as chartering representatives, logistics planners and product schedulers, who may have responsibility for chartering barges, yet may not have much knowledge of how barges operate. Students get hands-on time aboard the Kirby 101 turning valves and measuring liquid levels, among other tasks.

Workboat Academy graduates largest class to date
On Feb. 26, 2010, the Pacific Maritime Institute (PMI) saw its third and largest graduating Workboat Academy class yet. Sixteen academy graduates are now eligible for a mate 500 ton ocean and mate 1,600 ton near coastal license and unrestricted mate of towing endorsement. PMI's Workboat Academy began in 2007 as a vocational approach to becoming an officer on a workboat. Gregg Trunnell, Director of PMI, said that the workboat industry had traditionally seen 90 to 95 percent of its officers work up through the hawsepipe. But with STCW 1995, that became a much more difficult prospect. Tug operators found they could no longer bring their people up from the ranks and began turning to academies for licensed personnel. However, academy graduates did not have relevant experience in the workboat industry and were prepared for the company culture aboard deep-water vessels rather than a tug and barge operation. The result was poor retention.
The Workboat Academy came about as a solution to this problem and can report a 100 percent retention of all graduates working in the field so far. Of the more than 90 graduates, not including the February 2010 class, all are still sailing. Trunnel attributes this to the close relationship the school has with the sponsoring companies and the selection process. "We can be extremely selective," Trunnell said. "We're looking at their passion and that their expectations are appropriate." Trunnell described the selection process as "night and day from the academies." During the selection process PMI educates potential students about the industry and job description.
"We paint a bleak picture," said Marja Van Pietersom, Chief Instructor and Program Manager at PMI. "We tell them 'you're still going to be cleaning toilettes when you're a First Mate.'" Pietersom said they are also blunt with prospective students about the stress the career places on family and relationships. Applicants must be 19 years of age or older and the median age of students is in the mid-30s. "If we can't talk them out of it," Pietersom said, the process moves on to interviewing with sponsor companies. Most students are actively employed with the company they will be working for after graduation. The Workboat Academy has 18 partner companies so far and is continually looking for more partnerships in the field.
Pointing to another unique characteristic of the academy, Trunnell said, "this program has more sea time than any maritime training institution." There are four phases of the program, each phase moving from the classroom, to the simulator, to work on a vessel. Each sea phase includes training, assessments and sea projects. In total, the program consists of 28 weeks of classroom time, four weeks in the simulator and one year of sea time. It also features an associate's degree option through Renton Technical College, which can be achieved with additional course time. A probation period lasts through the first sea phase where the student can evaluate if they're happy with the career path and the mates and captains they sail with can also determine if they're happy with the student. After this probation period, the Workboat Academy has a 95 percent completion rate.