SC Ports Box Volumes Up Nearly 15%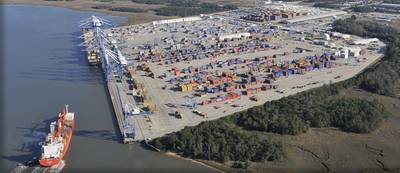 South Carolina Ports Authority (SCPA) informs it has handled nearly 15 percent more pier containers fiscal year to date than the same period last year, with total box volume through April climbing to nearly 900,000 containers.
SCPA handled 96,166 pier containers in April, compared to 86,505 boxes moved during the same month last year. The port plans to handle more than 1 million containers by the completion of its fiscal year on June 30.
As measured in twenty-foot equivalent units (TEU), container volume is up 13.9 percent fiscal year to date. SCPA handled 168,182 TEUs in April, bringing total container volume to 1.6 million TEUs since the fiscal year began in July. Four months into the calendar year, TEU volumes are up 15 percent compared to the same period in 2014.
Breakbulk volumes fiscal year to date are strong, with 698,229 tons handled by the
Port of Charleston
and 460,209 moved in Georgetown. Total breakbulk tonnage reached 1.2 million pier tons fiscal year to date and is 4.5 percent ahead of plan.
The
Inland Port handled
its highest ever monthly rail moves, with 5,513 moves completed in April. Fiscal year to date, the facility has handled 45,826 rail moves.
"The volumes announced today reflect significant growth across all business segments," said SCPA Vice-Chairman John Hassell. "Spring is typically a busy season for us, particularly on the containerized cargo side, and our sustained double-digit volume growth reflects the strong import-export markets we serve. The port's ability to handle increased container traffic with high productivity is a testament to our ability to handle rising cargo volumes both reliably and efficiently."