Vroon Offloads 30 Offshore Service Vessels to Britoil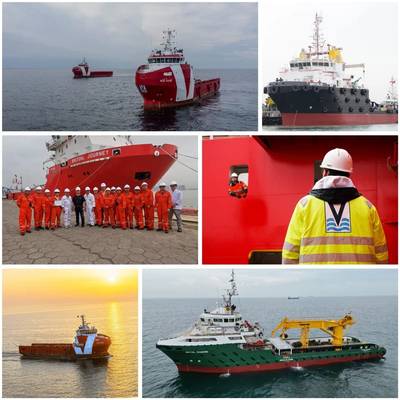 Britoil Offshore Services said this week it had acquired 30 offshore service vessels and supporting offices in Singapore from Dutch shipping firm Vroon.
"The acquisition will see an expansion of Britoil's operating footprint into the Mediterranean, the North Sea and Asia Pacific. The operations will also synergise in the Middle East and Africa," Britoil said.
The 30 vessels and supporting offices were part of Vroon's offshore services business. Earlier this year, Vroon announced it would sell these vessels as part of a strategic reorientation. The two management offices supporting the fleet will continue their operations as usual, with Ernest Loh and Sivakumar Ramadu continuing to lead the team in Singapore and Andrea Cavo helming the team in Italy, Britoil siad.
They will report to Florent Kirchhoff, Chief Executive Officer of Britoil, headquartered in Singapore.
"This ensures a high degree of continuity for existing clients and contracts. Vroon will ensure a smooth and seamless transition of its vessels, crews and organisation to Britoil," Britoil added.
The acquisition will increase Britoil's fleet strength as it gains access to another 30 vessels, doubling its current fleet.
Britoil said the acquisitgion propelled the company in the selected group of top 10 offshore service vessel owners, with one of the youngest average fleet ages, at 11 years for the combined fleet.
"It has been an exciting period for us at Britoil. After setting up our Dubai office and acquiring seven offshore service vessels last year, this acquisition provides a robust platform for growth as a combined company. We are truly honoured to be working with an experienced management team, and we look forward to the opportunity to widen our geographical offerings and a diversified client portfolio together as one team," commented Florent Kirchhoff, Chief Executive Officer of Britoil Offshore Services.
"Vroon's reliable, sustainable and cost-effective solutions have seen many successes with their clients. Sustainability is no longer a want but a must and need. Britoil's customers will be able to benefit and see cost-effectiveness in our solutions moving forward," Florent added.
Martijn Schouten, CEO of Vroon, commented, "With the sale to Britoil of 30 offshore-support vessels and our offshore management offices in Genoa and Singapore, we have virtually completed the divestments that are part of our financial restructuring and strategic refocus, which we communicated earlier this year. We see a good fit with Britoil's existing offshore operations and believe the combined fleet will be a strong global provider of offshore services to existing and new clients across the world. Together with Britoil, we will ensure a smooth and seamless transition of our vessels, crews and supporting organisation to their new owner. We wish our former colleagues all the best under new ownership."
Financial details of the agreement were not disclosed.
Separately, Norwegian offshore vessel operator Golden Energy Offshore Services (GEOS) last month entered into a binding Memorandum of Agreement for the acquisition of four platform supply vessels and one subsea support vessel from subsidiaries of Vroon Holding B.V. for a total consideration of $94 million.
Earlier this week, GEOS said it had found a buyer for one of the Vroon vessels was acquiring, adding that it would sell the vessel at a substantial profit.