UK Names Next Type 26 Warship HMS Cardiff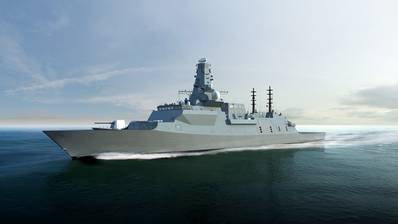 U.K. Defense Secretary Gavin Williamson has announced the name of one of the new Type 26 warships: HMS Cardiff.
The third to be named in the City Class of eight brand new antisubmarine warfare frigates, HMS Cardiff – due to enter service in the 2020s – will provide protection for the likes of the U.K.'s nuclear deterrent and Queen Elizabeth Class aircraft carriers, and offer antisubmarine warfare capability.
The Royal Navy's Type 26 frigates are being built at the Clyde shipyards in
Scotland
, where the MOD announced 20 years of work in 2017 with the £3.7 billion contract for the first three of eight Type 26 frigates to be built there.
Two other ships in the class have already been named HMS Glasgow and HMS Belfast. HMS Cardiff is the third ship to be named and will be the second to enter production.
The naming was marked by an event at Mansion House in Cardiff, led by students from the Welsh
University Royal Nava
l Unit.
HMS Cardiff will be the fourth ship to be named in honor of the Welsh capital city, and the announcement comes 100 years after the first HMS Cardiff led the surrendered German High Seas Fleet into Scapa Flow at the end of the First World War.
"The name HMS Cardiff brings with it a proud history. A century ago the light cruiser HMS Cardiff famously led the German High Seas Fleet into internment at Scapa Flow at the end of the First World War," said First Sea Lord Admiral Sir Philip Jones.
"The last HMS Cardiff, a Type 42 destroyer, also distinguished herself on operations around the world, including the 1982 Falklands campaign, the 1991 Gulf War and service in the Adriatic during the 1999 crisis in Kosovo.
"This next generation of frigates will encompass the very latest innovations and technological advances to deliver a world class antisubmarine warfare capability within a globally deployable and highly versatile platform."
The announcement also comes as BAE Systems have awarded Lockheed Martin a contract to equip the Type 26 with the only system of its kind capable of launching antiair, antisubmarine, surface-to-surface and strike-length missiles. Three MK 41 Vertical Launching Systems will be fitted on each ship. The Royal Navy has ordered an initial nine modules for the first three ships, including HMS Cardiff.
Australia and Canada are also considering the Type 26 design. HMS Sutherland is currently in Australia demonstrating its antisubmarine capability.