New Warship Returns After Passing Builder HII's Sea Trials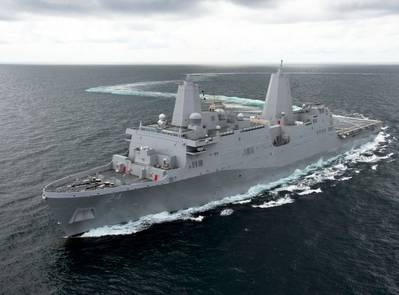 The Ingalls-built amphibious transport dock 'Arlington' (LPD 24) returns from successful builder's sea trials in the Gulf of Mexico.

A test and trials team thoroughly tested LPD 24's major operational systems. More than 200 test events took place during the sea trials, including anchor handling, flight operations, ballasting and de-ballasting the well deck, and compartment air balancing.

The ship will now prepare for acceptance sea trials to demonstrate the same tests and operational success to the U.S. Navy's Board of Inspection and Survey (INSURV). The ship is scheduled to be delivered to the Navy this year.

"The logistics it takes to conduct that many test events in a three-day period requires excellent planning by the test and trials team," said Richard Schenk, Ingalls' vice president of test and trials. "The team and the ship performed well. While there is still much work to do in preparation for U.S. Navy acceptance trials, I'm confident the LPD 24 HII/Navy team will have the ship ready."

The 11 ships of the LPD 17 class are a key element of the Navy's ability to project power ashore. Collectively, they functionally replace more than 41 ships (the LPD 4, LSD 36, LKA 113 and LST 1179 classes of amphibious ships), providing the Navy and Marine Corps with modern, sea-based platforms that are networked, survivable and built to operate with 21st century platforms, such as the MV-22 Osprey.

Ingalls has delivered six ships in the class and has five more in various stages of construction, including LPD 24.