New Dutch Waterway Bunker Station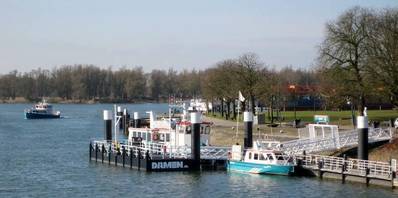 The Gorinchem Ferry Service & Damen Shipyards Group collaborate to install a modular pontoon with a jetty for the bunker station.
"What started as a mooring pontoon with a small gas oil tank for the ferry service has expanded into a complete bunker station", says Jeroen van Woerkum, Sales Manager Benelux. The work involved designing, building and installing a modular pontoon, jetty, together with supplementary activities for the bunker station along Buiten de Waterpoort in Gorinchem.
That location now provides storage for 15,000 litres of gas oil, divided between two tanks. Two tanks were also installed to supply boats with lubricating oil and to collect waste lubricating oil. The bunker station has two ballast tanks on the side to achieve the correct draft and trim. The two KIWA certified tanks for storing gas oil are located centrally. The lubricating oil tank and the waste lubricating oil tank with a capacity of 1,500 litres are also located in this hold. 

This space and the two tanks are provided with de-aeration and aeration facilities that discharge into the two lampposts on deck.

The delivery system that supplies gas oil and collects lubricating oil is mounted on deck. "Thanks to a fixed quayside connection, the system is continuously supplied with voltage. The electrical system is entirely flameproof with flameproof components and cables. Furthermore, we have fitted a remote control automatic boarding ramp, so that passengers can board and disembark safely", explains Stefhan van Esch of Damen Services Special Projects.