Baltic Index Down Again on Broad Weakness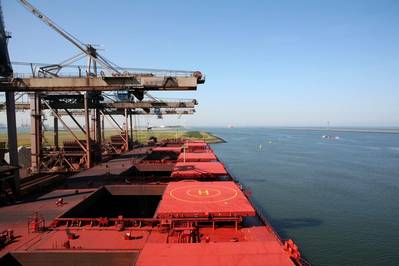 The Baltic Exchange's main sea freight index, tracking rates for ships carrying dry bulk commodities, fell on Thursday for a second straight day, on weaker rates across all vessel segments.
The overall index, which factors in rates for capesize, panamax, supramax and handysize shipping vessels, was down 26 points, or 2.69 percent, at 942 points.
The capesize index lost 68 points, or 5.64 percent, at 1,138 points.
Average daily earnings for capesizes, which typically transport 150,000-tonne cargoes such as iron ore and coal, were down $438 at $9,001.
The panamax index was down 46 points, or 3.86 percent, at 1,146 points.
Average daily earnings for panamaxes, which usually carry coal or grain cargoes of about 60,000 to 70,000 tonnes, decreased $375 to $9,174.
Capesize earnings have come under some pressure with global averages dipping to about $9,000/day, while Panamax earnings have also seen continued weakness thus far into the week,
Clarksons Platou Securities analysts
said in a note.
Among smaller vessels, the supramax index fell 9 points to 798 points, while the handysize index was flat at 500 points.
Reporting by Karen Rodrigues