World's Largest LNG Bunker Vessel Sails for Delivery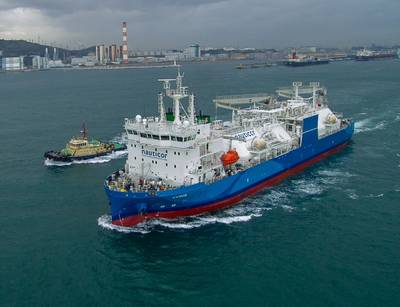 The world's largest liquefied natural gas (LNG) bunker supply vessel began its voyage from Hyundai Mipo Dockyard (HMD) in South Korea to the ship's primary area of operation in Northwest Europe, on Wednesday.
The 7,500 m³ capacity Kairos is the world's largest LNG bunker supply vessel. It will be ready for operations before the end of 2018.
Mahinde Abeynaike, CEO of Nauticor, which holds 90 percent of the joint venture that charters the vessel, said, "The arrival of the Kairos in the Baltic Sea will set a milestone for LNG as a ship fuel. From then on, supply of LNG as a marine fuel in the Baltic Sea is secured on a large-scale basis. This is a great step for sustainable and responsible shipping with a large impact on air and water quality."
Mindaugas Jusius, CEO of Klaipėdos nafta (KN), which holds the remaining 10 percent of the joint venture, points out that the new ship will ensure an efficient LNG reloading station service in Lithuania's Port of Klaipėda and offer a full LNG logistics chain in the Baltic Sea Region to its customers.
"The main advantage and ambition of the new vessel is to ensure more competitive pricing for the LNG reloading station users. It will not only reduce the cost of the LNG supply chain, but will also ensure the smooth and reliable service to distribution station users in Klaipėda," Jusius said.
The construction of the vessel started in 2016 when the joint venture signed a time-charter agreement with ship owner Babcock Schulte Energy (BSE). First steel was cut in February 2018 at HMD in Ulsan, South Korea.
In addition to its large capacity, Kairos has several other unique features, including the ballast-free design and installation of a CNG tank to store vapor return gas from customer vessels.