Wärtsilä to Design & Power New OSV's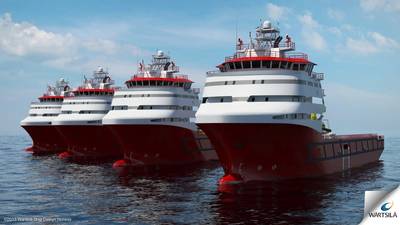 Wärtsilä awarded a major contract to design a series of four multi-purpose platform support vessels (MPSVs) for Malaysian owner.
The contract has been placed by Bumi Armada Berhad, a Malaysian-based international offshore oilfield services provider and also the largest owner and operator of offshore support vessels in Malaysia.
Wärtsilä will also supply a comprehensive solutions package for each of the vessels. The vessels will be built by a subsidiary of Nam Cheong Limited, Malaysia's largest Offshore Support Vessels builder, in one of its subcontracted yards, Fujian Mawei Shipbuilding Ltd, in China. The Wärtsilä contract with Fujian Mawei Shipbuilding Ltd yard was signed in March 2013.
For each of the four vessels, this comprehensive solution contract comprises the basic customized design, the main power generation system, the propulsion system, the Wärtsilä Low Loss Concept (LLC) electrical system and the automation system. The order follows the successful execution of a similar MPSV order in 2011 for Bumi Armada Berhad featuring a Wärtsilä ship design and fully integrated Wärtsilä machinery, electrics and automation.

The unique WSD 1000 design is tailored to meet the specific requirements and operational modes demanded in complex off shore applications. At the same time, the interfaces during the building process and detailing stage greatly benefit from both the design and the machinery being from the same supplier, Wärtsilä. The single supplier concept also reduces the time and costs associated with the procurement and logistics procedures, while easing typical project completion concerns.

"The synergistic benefits provided by Wärtsilä in supplying a comprehensive and fully integrated package, including the ship design, highly efficient propulsion machinery, and state-of-the-art automation systems, add real value for the customer. Our capabilities as a trusted partner in developing total solutions concepts is again highlighted with this valuable order," says Magnus Miemois, Vice President, Wärtsilä Ship Power, Solutions.

Wärtsilä WSD 1000
Length, over all: 88.80 m

Breadth mld.: 20.00 m
Depth Moulded: 8.40 m

Speed: 15.0 knots