Wärtsilä Designs Unique Factory Trawler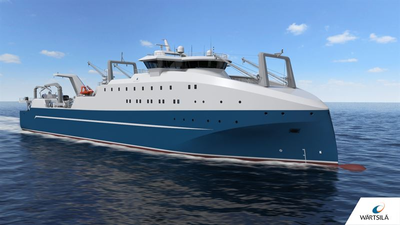 Wärtsilä has been contracted to provide the ship design for a state-of-the-art factory fishing trawler.
The vessel will be unique in having the combined capabilities of twin trawling for many different fish species, having both conventional winching as well as pumping systems for bringing the catch onboard, and being able to process fish from other vessels. The ship is to be built in Kaliningrad at the Yantar shipyard for RK named after V.I. Lenin (RK Lenina), the owner. The order with Wärtsilä was placed through its Russian entity Wärtsilä Vostok LLC and was booked in October 2018.
The 121 meters long vessel will feature a unique bow design that has undergone testing following computerized fluid dynamic calculations and simulations. The design offers enhanced performance. The ship will be part of the Russian Government's investment program for fleet renewal. Under a separate agreement, Wärtsilä has developed a concept that will enable the owner to apply for an extended quota for fishing in Far East waters. The ship will have more than 5000 cubic meters of storage capacity.
The vessel is scheduled for delivery in 2023 and will operate in Russia's Asian fishing grounds in the Okhots Sea.
While this is the first ship design project that Wärtsilä has carried out for the Yantar shipyard, the company has supplied equipment for numerous vessels built at the yard.