Wärtsilä to Equip Knutsen LNG Carrier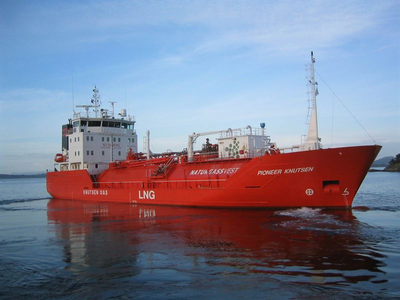 Wärtsilä said it will provide an integrated propulsion and cargo handling solution for a new 30,000-cubic-meter liquefied natural gas (LNG) carrier being built at the Hyundai Mipo Dockyard (HMD) in South Korea on behalf of Norway based Knutsen OAS Shipping.
Under a 12-year long term charter, the vessel, expected to be delivered during the first half of 2021, will be operated by Knutsen and chartered to Edison S.p.A, an Italian energy services provider. It will be used to supply coastal LNG deposit terminals in Italy.
The order with Wärtsilä was booked in January 2019, and the contract includes an option for a sister vessel. The Wärtsilä equipment is scheduled for delivery in 2020.
The Wärtsilä solutions will ensure effective interfacing between the vessel's propulsion, onboard auxiliary power generation, and cargo control processes, the company said, adding such integration is essential in achieving full fuel-efficiency.
The advanced Wärtsilä cargo handling system includes the fuel supply, cargo control system, boil-off gas (BOG) reliquefaction, and safety management. The five-cylinder WinGD X52DF dual-fuel main engine and the Wärtsilä auxiliary dual-fuel engines are essential consumers for the BOG management system, which monitors and controls the cryogenic cargo, to ensure, in combination with a Wärtsilä developed mixed refrigerant re-liquefaction unit, all time control over the cargo tank pressure and temperature. The vessel will be one of the first LNG carriers in its size to be equipped with C-type bi-lobe cargo tanks.
The scope of supply includes three Wärtsilä 20DF dual-fuel auxiliary engines that power the board net, thrusters, cargo control system and re-liquefaction module. The main engine and single Wärtsilä Controllable Pitch Propeller system allow the vessel to operate at its highest fuel efficiency design point, in a combinator mode controlling the shaft power, pitch and speed.