Wärtsilä Sees 'Significant' Benefits from Profit Sharing Deal with Brittany Ferries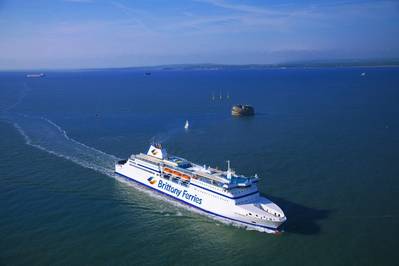 Finnish marine technology group Wärtsilä has said that its profit-sharing deal based on fuel savings signed two years ago with Brittany Ferries has significantly benefitted both companies.
The installation of Wärtsilä's Trim and Speed energy management and optimization technology on the first vessel 'Cap Finistere', covered by the contract, was finalized and fully operational in March 2019.
The installation was carried out by Wärtsilä Voyage. Wärtsilä says Wärtsilä Voyage is part of the company that "transforms how vessels perform their voyage by leveraging the latest digital technologies to deliver a step-change in safety, efficiency, reliability, and emissions."
Within six months from the installation, Wärtsilä said Friday, the ferry's fuel consumption was 4 percent less than prior to installation.
"This equates to a reduction of approximately 2,600 tons of carbon dioxide emissions, according to Brittany Ferries and Wärtsilä calculations," the Finland-based company said.
The initial contract covered three vessels, Cap Finistere, Pont Aven, and Honfleur. More recently, Wärtsilä Voyage received orders for three more ships, Galicia, Mont St. Michel, and Armorique. Brittany Ferries' RoPax ships serve routes between France, the UK and Spain.
"We are delighted with both the fuel savings achieved and the resulting reduction of the ship's carbon footprint. Our strategy is very much built around environmental performance, and we have already ordered the Wärtsilä Speed and Trim solutions for additional vessels," says Arnaud Le Poulichet, Technical Director, Brittany Ferries.