Princess Cruises to Base Ship Year-round in San Francisco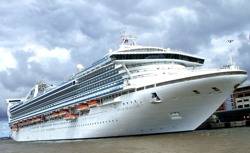 Cruise ship 'Grand Princess' will be based in San Francisco following extensive renovation
Princess Cruises has announced that for the first time it will base a ship in San Francisco year round, beginning in May 2013.The extensively renovated Grand Princess will first offer a series of Alaska cruises during the summer months from the "City by the Bay," followed by a schedule of Hawaiian Islands, Mexico and the California Coast sailings during the fall 2013 to spring 2014 season.
Last year the 2,600-passenger Grand Princess underwent the largest drydock in Princess Cruises history, adding a host of new features so that passengers will enjoy the same onboard experience as offered by the line's other newer ships.
"Princess has been cruising from San Francisco nearly as long as our company has been in operation, so we have a rich history with the city, and we are the leading cruise line homeporting there," said Jan Swartz, Princess Cruises executive vice president. "Our Bay Area passengers and travel agents have long been asking for more cruise options from San Francisco and our new year-round schedule with Grand Princess will now give them a great selection of itinerary choices, plus the benefit of sailing on a ship that offers our signature features and amenities."
"Princess ships have been cruising from San Francisco for more than 40 years, and we greatly appreciate the company's longstanding partnership with our city," said Monique Moyer, executive director of the Port of San Francisco. "We are delighted to now have our first year-round ship based here, and it is a natural fit that the vessel is the caliber of Grand Princess. Having this ship sail under the Golden Gate Bridge and berth at the foot of Coit Tower will be spectacular, both for the guests on board and the people of San Francisco."