Topaz Completes Milestone of Vopak Project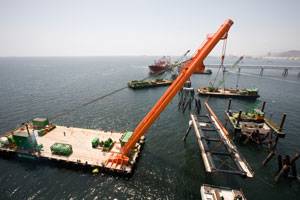 Topaz Energy and Marine Ltd. through its subsidiary Nico International, part of the newly established Topaz Engineering division has successfully completed the first milestone activity of a project for Vopak Horizon Ltd., Fujairah. The project was awarded to Nico by Interbeton (currently being rebranded as BAM International), Abu Dhabi in November last year for the design, fabrication & installation of offshore trestles and pipes. The project is due for completion in December 2009.

During this project Topaz undertook the construction of Berth five and six of the 1.5 million cubic meter oil terminal for Vopak in Fujairah. The project also included fabrication and erection of offshore structures weighing 1,055 metric tonnes; design, fabrication and erection of offshore piping of eight kms length and erection of six Marine Loading Arms. Some of the other products being erected are gangway towers, fire fighting equipments, stripping pumps, nitrogen & slop tanks, pig launchers, operator cabins and MCC Containers. The first milestone of the project was the completion of the erection of Trestle TB four weighing 56 metric tonnes, which was performed with an A-frame barge of the main contractor Interbeton. The first milestone was safely completed without a lost time injury (LTI).

2008 was a record year for Topaz and the company presented record results for the eighth consecutive year. In 2009, Topaz is undergoing a business structure realignment that will see it grow even stronger and allow Topaz to be recognized worldwide as a best in class service provider to blue-chip multinationals. This realignment is built on the natural synergies of aligned core capabilities, facilities and resources. It will enable Topaz's Strategic Business Units to build on their market leadership, and catapult the new divisions; Topaz Marine and Topaz Engineering, onto the global stage.

Topaz Marine comprises Nico Middle East, Doha Marine Services, Topaz Saudi Arabia, BUE Caspian, BUE Kazakhstan and BUE Turkmenistan. Topaz Engineering comprises Adyard and Nico International. Topaz Engineering now offers services in four business verticals - Topaz Fabrication and Construction, Topaz Marine Repair, Topaz Ship Building and Topaz Maintenance Services.