Newest MSC Cruises Ships meet in Mallorca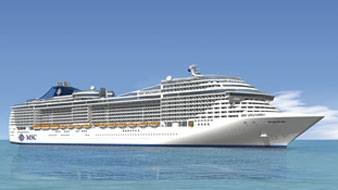 MSC Splendida and MSC Fantasia, the newest ships in MSC Cruises' fleet, met July 9 in Mallorca, Spain, as MSC Splendida sailed to her christening in Barcelona on July 12.

This was the first meeting between the two 137,936-gross registered ton sister ships, the largest ever commissioned by a European owner, since late last year when MSC Fantasia sailed from the STX Europe shipyard in Saint Nazaire, France, where both were built.

MSC Fantasia, calling in Mallorca during her regular seven night summer Mediterranean cruise itinerary, welcomed her soon-to-be-christened sibling MSC Splendida to the MSC Cruises family during their joint visit to the Spanish port.

The sister ships sailed from the port together, escorted by two tugboats. MSC Fantasia set a course for Barcelona, where she will call before continuing her cruise to Marseille and Genoa. MSC Splendida will sail to Marseille before embarking on the final leg of her journey from the shipyard to Barcelona for her christening by film star Sophia Loren, who is godmother to both the MSC Splendida and MSC Fantasia. Spanish operatic lyric tenor Jose Carreras will also join in the celebration, entertaining guests from throughout the world.