Cat C32 ACERT Engines for Dutch Pilot Boats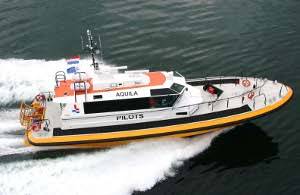 Loodswezen, the Dutch pilot organization responsible for coordinating large ship arrivals and departures in the port of The Netherlands, chose Kvichak Marine Industries in Seattle, Washington, USA, to build a boat designed by naval architecture firm Camarc Design in the UK, which had also designed Loodswezen's current high speed pilot boats.

Delivered in March 2010, the 72-ft all-weather fast pilot boat, M/V Aquila, is powered by twin Cat C32 ACERT engines, rated at 1300 bhp (970 bkW) at 2100 rpm. Certified with an EPA (US Environmental Protection Agency) Tier 2-compliant 'B' heavy duty-rating, the C32 ACERT engines are manufactured in Caterpillar's Marine Center of Excellence (MCOE) in Greenville, South Carolina, USA and delivered by N C Power Systems, the local Cat dealer for the Pacific Northwest. Improved performance from Cat engines not only means more power overall, but also better acceleration, more reserve power and rated power available at a wider speed range, all while operating virtually smoke free. These engines allow for excellent maneuverability and a top speed of about 28.5 knots fully loaded, which match the performance of the rest of the pilot boats in Loodswezen's fleet.

The Aquila is equipped with an exhaust after-treatment system consisting of a Selective Catalytic Reduction system (SCR) and a Diesel Particulate Filter system (DPF). The SCR system injects a urea based mixture downstream of the engine exhaust outlets into the dry exhaust piping, which is combined with nitrogen oxide (NOx) emissions with the aid of a catalyst. The DPF collects the unburnt soot and with the presence of another catalyst converts the carbon monoxide (CO), hydrocarbons (HC), and particulate soot into carbon dioxide (CO2) and water (H20). Normal running exhaust temperatures are high enough to achieve an almost complete burn of these captured soot particles. The emission performance will have a reduction of 98 percent of particulate matter and 60 percent reduction of NOx, fulfilling all new requirements by IMO and EU guidelines.

Now that Kvichak has delivered the M/V Aquila, Loodswezen has two identical boats on the way: the Draco in May 2010 and the Orion in June 2010. All three boats will rely on the proven reliability and low environmental impact of Cat C32 ACERT engines.